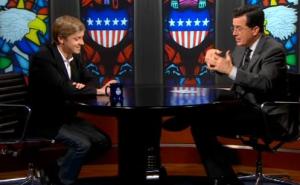 Chris Hughes, a co-founder of Facebook and now founder of New York-based Jumo, braved The Colbert Report last night.
"My guest tonight is the co-founder of Facebook who founded Jumo.com. I can't wait until it starts invading my privacy too," Stephen Colbert said in his intro. And later, "So do you have a gazillion dollars, or a brazillion dollars?"
Hughes, who left Facebook to work on the Obama campaign, took the ribbing well.
Jumo is a social network for connecting organizations working to change the world with people who want to help, he explained. Jumo helps people find non-profits, get involved, keep up to date on what the organization is doing and support it with donations.
Jumo launched in beta at the end of November, but the launch was bumpy: the site initially had long load times due to high interest. "I know it's never fun to get excited about a new product and then not be able to use it, but rest assured, we'll be fully available soon," Hughes apologized on the Jumo blog.
Engineers worked around the clock to fix the problems, and now it's time for the publicity campaign. Jumo was also featured recently on CNN.
Watch the interview below.
ajeffries [at] observer.com | @adrjeffries