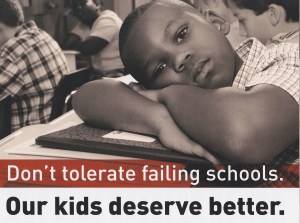 A reader passed along the following mailer that he received touting the administration's efforts to close failing schools.
It is somewhat odd to mail on the issue, since the matter of school closures is one that is made almost entirely by the administration and the Department of Education, and so even if there were a groundswell of support for school closings, it wouldn't matter much.
But in fact, of course, many residents resist the closing of local schools, as the first hearing that Cathie Black attended attests.
The flyer asks recipients–the one who sent this one into The Politicker lives in downtown Brooklyn–to return the card "If you think kids in our community shouldn't be forced to attend failing schools and if you support replacing these failing schools with better, successful options."
The reader also noted that he received the mailer the very same day that Klein was named as chairman of the board at Education Reform Now, the group that is sponsoring the mailings, since Klein was behind the effort to shutter many of the city's failing schools
Click through to see the whole mailer