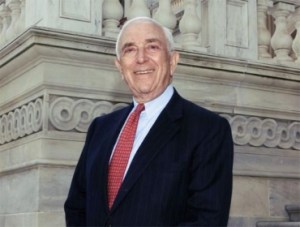 WASHINGTON, D.C. – Midway into the dinner and with the table hardware clanking heavily on the dishware, U.S. Sen. Frank Lautenberg (D-Cliffside Park) takes a crack at a speech here.
"This organization isn't just getting older, it's getting better – get it," the 87-year-old Lautenberg said of the 100th annual Chamber of Commerce event.
As expected, he brings up the Access to the Region's Core (ARC) tunnel, Lautenberg's baby, which Gov. Chris Christie buried last year.
"The governor is a big Springsteen fan and I tried to encourage him down the'Tunnel of Love,' but he was convinced it might be a bumpy ride and decided to leave without us," the senator deadpanned to some laughs.
"May I have your attention please," he says moments later to muttering and then adds, "thank you."
The senator later dings the Republican governor on the Race to the Top debacle when he says "I was disappointed the state lost $400 million in educational resources for the state of New Jersey."