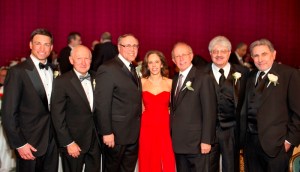 There was no Ricky Gervais at last night's REBNY annual banquet, but obviously attendees had been watching the Golden Globes, as emerald green was the color of the night for all the lovely ladies of the city's building elite. There was even a gentleman in a green felt suit with matching Jets cufflinks. R-E-B-N-Y. REBNY REBNY REBNY. He was not, as we'd hoped, Woody Johnson.
Leslie Wohlman Himmel was the standout of the night, though, not only for being the only woman to be honored this year but also for the stunning red dress she had on. (Perhaps she was channeling the racy January Jones.) Joining her on the dais were fellow nattily dressed honorees Andrew Singer, Leonard Boxer, Frank A. Freda, David Brause and Jeff Gural, who said in his acceptance speech that well over 2,000 big shots attended the gala.
But enough about the clothes. In place of Gervais, we enjoyed the comedic stylings of once-again Senate Majority Leader Dean Skelos. Busy-as-ever REBNY boss Steve Spinola introduced him as "Thank god, the new majority leader of the New York State Senate." The attendees roared with approval. Could there be bigger-than-usual moves coming in Albany? Certainly one of the more thrilling topics of conversation all night was the impending property tax cap. Break out those calculators, boys and girls.
During the cocktail hour, Mayor Bloomberg was spotted giving a semi-private audience to two young couples, power brokers on the way up. We talked with housing czars Rafael Cestero and Mark Jahr about how construction of affordable housing is actually booming at the moment, about the only thing going on in the city. Sorry for mocking you guys! Keep up the good work.
We shared a cocktail with David Levinson and asked about a super secret project downtown, but it being super secret, that's all there is to say about it right now. Just goes to show you that downtown is still where it's at.
Well wishes to the Durst honcho whose two kids are running a fever. Lotsa matzah ball soup, guy.
East Side Councilman Dan Garodnik was on his way out as we were coming in, and Council Speaker Christine Quinn was already gone. We did bump into Landmarks Preservation Commission chair Bob Tierney on the way into dinner and spotted Building Commissioner Bob Limandri inside but did not see the ever radiant Amanda Burden. Council land-use chair Leroy Comrie held court with a number of attendees. Politics in action.
We thought we saw Jimmy McMillan, but it was just a look-a-like. We did see Jed Walentas chatting with Purnima Kapour, the head of City Planning's Brooklyn office. And after dinner he was seen on the dias talking with Bill Rudin and Seth Pinsky. Quite the mover and shaker! What is he up to? More industrial hotels? We asked, and expect to reveal more soon.
Chris Ward, the Port Authority boss who has gotten Ground Zero in line, was talking up Janno Lieber and Douglas Durst, his partners at the World Trade Center. Brooklyn Councilman Lew Fidler opined, once again, that there is plenty of room on the streets for all of us.
After dinner, we saw William Macklowe having a grand old time at his table with Richard LeFrak. Things are indeed looking up. Later in the night, we chatted with Billy and he forgave us for writing nasty things about him. What a great guy.
Jim Stuckey, head of NYU's Schack Real Estate Institute was making the rounds, perhaps looking for some guest lecturers. Current REBNY chair Mary Ann Tighe was the most popular lady in the ballroom, as admirers danced around her all evening. Elliman uber-retailer Faith Hope Consolo was glowing–in green, of course–and gabby as always.
Peter Riguardi, the boss over at Jones Lang LaSalle, looked dapper as ever, thanks as always to that handsome shock of white hair. Only the moustache of Fried Frank's Jonathan Mechanic could top his good looks.
At least one table caught fire during the festivities.