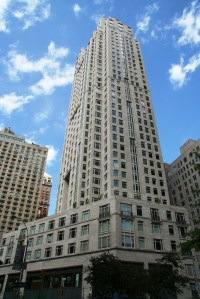 We've been obsessing over William Lie Zeckendorf's former penthouse for a while now. After all, how could he leave the trophy building, 15 Central Park West, that he built with his brother and Robert A.M. Stern? Well, when presented with a record-setting price and the tantalizing prospect of Bruce Wasserstein's pad, why not?
Part of the mystery surrounding the sale was who the buyer might be, and it's a surprising one. It's not your run-of-the-mill media mogul, master of the universe or movie sar.
The buyer of the 15 Central Park West penthouse was the co-founder of GPS pioneer Garmin, Min Kao, who still serves at the company's chairman and CEO. That's right, a global positioning system mogul–a very lucrative business it turns out, according to The Journal, which broke the news:
Mr. Kao, who was born and attended college in Taiwan, more recently has lived in the U.S., where he received his doctorate. Forbes last year estimated his net worth at $1.6 billion, down from $4.7 billion in 2007, following a decline in Garmin stock.
That's still enough money for a $40 million penthouse, which while not the most expensive residence ever sold in the city–not even last year, for that matter—still set the record on a per-square-foot basis.