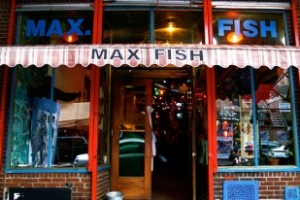 Since December, walking out of Max Fish — the classic Lower East Side haunt that's kept artists, rock stars, and downtown lushes wasted since the nineties — meant possibly never walking back in again. Word got out that the property taxes and sky-high Ludlow Street rents were forcing Max Fish out of its location. The last day was slated for January 31, and the barflies and pool junkies who reside as fixtures of the place would pay their respects by painting the walls black.
But don't write your goodbye toasts just yet! Paper is reporting that Max Fish owner Ulli Rimkus has strong-armed her way into another year in the lease, keeping the bar on Ludlow until at least 2012.
We called up Rimkus to offer our deep relief that she'll stay there on Ludlow, serving PBRs late into the night.
"They gave me an extension with no strings attached!" Rimkis told The Observer over the phone. "Yesterday we got the signature."
We asked if the extra attention heaped on the bar had anything to do with the offering of a new lease.
"Why would people with money care?" Ms. Rimkus said, referring to the bar's charm. "The outpouring was very nice for us. So maybe?"
All of this has put a huge question mark on the funereal party scheduled for the 31st. The wall of slapdash sculptures, paintings and installations will stay its glorious technicolor — "We're not gonna paint it black, no!" Rimkus assured us — but there is certainly something to celebrate.
"I don't know if we're going to still have a party," Rimkus wondered. "We should."
Keep us posted, Ulli — a lease extension party seems a bit more fun than a goodbye party.