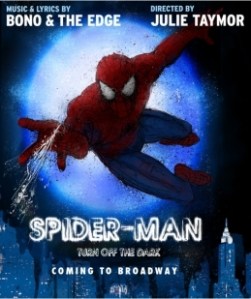 Will Spider-Man: Turn Off The Dark ever actually open? Will it ever emerge from preview purgatory and unleash its acrobatic feats of web-slinging and derring-do upon devoted lovers of theater and spectacle? Will the endless delays ever beget a premiere?
Perhaps not! Today the producers of the most expensive show in Broadway history announced that the much-afflicted musical will not in fact open on its already-late February 7 start date. It will open March 15, so they claim. Hold your breath at your peril.
Let's pick out the best parts of this face-saving press release.
Director Julie Taymor, on the delay:
We are so grateful for the enthusiastic audiences who have been coming to see SPIDER-MAN Turn Off The Dark and we are dedicated to giving them the very best show we can.
Producer Michael Cohl, on the delay:
We simply need more time to fully execute the creative team's vision before freezing the show. I picked a date in March that allows me to ensure that this will be the final postponement.
Arbiters for world peace Bono and The Edge, on the delay:
Working on this show has been one of the great thrills of our lives, we'll continue working as long as they let us. We are looking for the extraordinary here and we are nearly there.
The Observer, on the delay: there's a good chance they'll be another one.
Click for What Twitter Taught Us: Piers Morgan Defends A Cell-Abusing Arianna