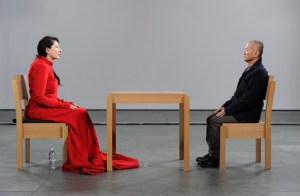 How do you get diners to pay $20 for a dessert during a recession? Get art superstar Marina Abramovic to design it.
The Museum of Modern Art's performance-art queen has entered into an artistic collaboration with Park Avenue Winter restaurant chef Kevin Lasko. In a deal brokered by the consulting arm of zippy public art behemoth Creative Time, starting tonight the East 63rd Street restaurant will present her Volcano Flambé.
Something of an avant-garde Baked Alaska, the dish "takes diners on a journey of hot and cold, soft and hard, dark and light, and sweet and savory," according to Creative Time, which also dubs it a "multi-sensory intervention." The group is known for such projects as artist Cai Guo-Qiang's Central Park fireworks display, for screening videos by Doug Aitken on the exterior walls of MoMA, and for contributions to the Coney Island Mermaid Parade.
We're not sure how Volcano tastes, but as it includes dark chocolate ice cream, banana mousse and is set on fire with rum, it seems promising. The dessert also comes with a collection of Abramovic's recipes and a recorded reading by the artist. An MP3 player will be delivered with the dessert so that diners can hear the artist guide them through "the experience of the dish."
Artist Janine Antoni, Paul Ramirez Jonas and Michael Rakowitz will present dishes at the restaurant later in the year, one for each season. (Park Avenue changes its name, menu and decor, with each season.)
The free-spending, experience-seeking, often ridiculous art world is going to, literally, eat this one up.