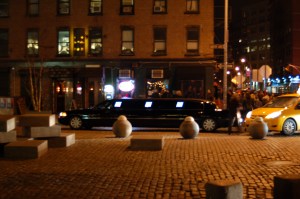 It's nearing last call at one of the Meatpacking District's swankier spots, and there's someone you're trying to impress.
All of a sudden, a limo pulls up. Perfect, you think. I'll look like such a classy guy. But much to your surprise, this is not a limo at all, but rather a fake, license-less, potentially dangerous gypsy cab.
It's an epidemic! The New York Post reported today, in an exclusive, that skeevy drivers are ripping off enough drunk young people that an investigation is underway.
Enforcement has been ongoing for months, but only recently have the NYPD and TLC ramped up their crackdown on cars that are unlicensed or respond to street hails, sources said.

On Dec. 11 and 12 — a Saturday night into Sunday morning — officials seized 21 unlicensed vehicles and nabbed 70 vehicles responding to hails that are for licensed cars only.
Surely fake limo drivers are not the only scam artists operating in the Meatpacking District, but this is a promising start. Can we get a referendum on astronomically priced bottle service next?
Click For Scandal Report: Parka-Clad Stars Sundance the Night Away