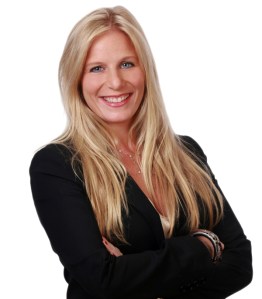 Welcome to the latest installment of our ongoing interview series, Meet the Neighbors! Beth Benalloul is a senior vice president and associate broker with Corcoran, where she specializes on selling apartments in her own backyard of the Upper East Side–for the sake of expertise and convenience. When not selling, selling, selling, she spends time mentoring new brokers and finding new restaurants.

Where do you live?
I live in a three bed, three bath condo on the Upper East Side. I am within walking distance to my office, my kid's school and many of my current listings! I love the convenience.

How is work these days? What is your latest deal?
It is busy and exciting. I am currently working on various deals, mostly with investors who are buying up New York properties.

What was the best meal you've ever eaten in New York?
My favorite all-around meal is Nobu. Stanton Social, Atlantic Grill and Serafina are some other favorites on my list.

What was your first apartment like?
It was a one bedroom converted to two in Murray Hill. I lived in the converted room and it was small. I was just so happy to be here in the city I did not care how small it was. I paid $1100 per month.

What is your recession war story?
I had two listings in the same line in the same building. I must have showed them both 200 times. One day I am walking out of the building and the doorman says to me, "I remember the last time that unit was on the market, it took the agent two years to sell." I was thinking, "Wow I am in for it." A month later I ended up selling both units in the same week.

How do you get around town?
I am a walker. I walk everywhere I can unless I am going far and then I either jump in a cab or take the subway.

What is your favorite building in the city?
The Empire State Building. Whenever I come and go from Manhattan, I always look back to see what color it is lit up in, and it's always a thrill. I remember seeing it as a kid when we would drive into New York and think, "I see can it! We are getting close."

If you weren't a broker, what would you be?
I would own a clothing store with all the latest fashions and jewelry.

What is your dream home?
In New York, it would be a Penthouse with amazing city views and a big terrace. If I were in Miami or the Hamptons, it would be a big house, oceanfront, big circular driveway, huge kitchen and a nice entertaining space.

You just won the lottery. What store do you stop by and what do you buy?
Graff Jewelers, I would buy one of those major necklaces that I see in the window and always wonder to myself "who buys these?"

If there was one thing you could change about New York, what would it be?
The weather from December to March. I wish it were not so cold and windy!
Read previous interviews here. >>