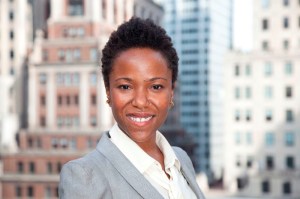 Welcome to the latest installment of our ongoing interview series, Meet the Neighbors! Laurielle Noel has only been a broker for only three years now, after graduating from Georgetown Law and working for PriceWaterHouse Cooper for half-a-dozen years before that. Still, she is a natural, becoming one of the top sellers at Platinum Properties. When she is not showing clients around downtown, she loves to wander Brownstone Brooklyn, absorbing the energy of the city.

Where do you live?
I moved to Clinton Hill, Brooklyn this past fall for a fantastic terrace apartment with an open view of Downtown Brooklyn and the Manhattan skyline. However, I do miss the convenience of living in Manhattan. When my lease is up I will move to the most quaint and charming, yet under-the-radar neighborhood in Manhattan–South Street Seaport. I already have my eye on a perfect loft with 13-foot high wood beamed ceilings, exposed brick walls and a serious chef's kitchen.
How is work these days? What is your latest deal?
Work is great because I love what I do. January has brought a lot of new buyers onto the playing field so I'm off to a good year. I am working with several people looking for two- and three-bedroom condos downtown, which is my niche neighborhood. I recently came to the realization that I prefer working as a buyer's broker rather than as a seller's. As a buyer's broker, the work is more interesting because I really have to get into my client's mindset to understand what they want and need, and I get to view different apartments every day. Also, there is less pressure from the client, which was particularly difficult during the recession when sellers were unwilling to drop prices.
My latest deal is a lovely two-bedroom loft rental on a cobblestone street in Tribeca. My clients are a very good-looking power couple with the most adorable baby, renting for one year as they look for a loft to purchase in the neighborhood.
What was the best meal you've ever eaten in New York?
My best meal in NYC? That is really tough to say–typically a wonderful meal for me is when I'm in the presence of great company and friends. I've lived in New York City over ten years, and can tell you that I absolutely love the food at this sexy new wine bar on Stone Street called Vintry. I guess the place is over one year old now. They serve a limited yet interesting variety of small plates that are consistently delicious. I don't usually eat shellfish (most people find that weird), but one of my favorite menu items is their lobster stuffed mushrooms. Sitting at the bar with my best friend, Doris, while sipping on Angel's Share and eating something scrumptious is my idea of perfection after a long day at work.
What was your first apartment like?
My first apartment was so New York. Fresh out of law school, I moved into a very cool loft on the top floor of a four-story walk-up with two roommates. The main part of the loft was quite big with 14-foot ceilings and three huge windows facing south. There was one bedroom on the left and a sleep loft above the kitchen. I had the best room. From the entrance of the apartment there was a spiral staircase which led to a small room that was literally on top of the building. This was my sanctuary. But what made it perfect is that at one end of my room was a door that led to our portion of the roof deck, which was completely decked out by the previous tenants. We had some of the best parties in that apartment! My portion was about $1100, the roommate with the actual bedroom paid $1200 and the roommate in the loft above the kitchen paid $1050.
What is your recession war story?
My career is a recession war story! I left the corporate world and became a real estate agent just as we were entering the recession in 2008. Everyone thought I was crazy, but I knew one thing was for sure–people have to live somewhere! Many brokers left the business as I was entering because they could not adjust to the new climate. For me, the recession was my only reality so I learned how to survive and succeed fairly quickly. What seemed like a war story to the veterans, was simply how the business operated for me. However, I can tell you that the biggest challenge in the recession came from a buyer who wanted to put an offer on an apartment for 50% of the asking price.
How do you get around town?
I either walk or take the subway. My first choice is to walk because I am definitely one of those people who loves New York so much that I want to take in the energy and beauty of the city as much as possible. Plus, the city is smaller than most people think, which makes it easier and faster to get somewhere by walking most of the time. I take the subway for daily commute and typically only take taxis for nights out.
What is your favorite building in the city?
It would have to be Grand Central. I take every opportunity to meet a friend or client at the information booth just so that I can walk through the station. In addition to being physically magnificent, the building has gone through so many interesting transformations and I always feel nostalgic recalling the many movie scenes that were shot there.
If you weren't a broker, what would you be?
I would probably own a Lower East Side cafe that turns into a bar/performance space for local artists in the evening. I love almost any form of live music and you meet so many interesting people in a cafe.
What is your dream home?
My dream home is a 4,000-square-foot duplex corner loft with eight-foot windows and a roof terrace. It would be in a small pre-war loft building anywhere below 23rd Street. I would have a fabulous kitchen and spa-like bathrooms with a bit of a country chic decor. My second home would be a house in the French countryside…
You just won the lottery. What store do you stop by and what do you buy?
Funnily enough–it would be an Apple store in Soho. I would buy all the latest gear for my dad, who is the original Mac junkie, and then I would head over to West Broadway to buy a ton of stuff I never needed until I won the lottery.
If there was one thing you could change about New York, what would it be?
I would put a Whole Foods in the Financial District.
Read last week's interview here. >>