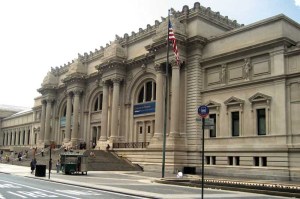 When art fairs and galleries try to be hip, they release an iPhone app or start a YouTube channel. The Metropolitan Museum of Art, always the traditionalist, opted for something subtler: an audio slideshow.
Connections, the museum's newest online initiative, launched today. The institution's shiny new digital media department invited conservators, curators, executives, and other staff to discuss how certain works of art in the collection relate to a particular theme or personal passion. The interviews—played over a slideshow of images—will be presented in weekly, four-minute episodes throughout the year.
Connections is the latest in a long line of "new media" projects aimed at making New York museums appear less elitist and more hip and accessible. (MoMA recently released its very own iPad app.)
Connections seeks to capture staffers' personal relationships to works at the museum. "These journeys through the collection are not driven so much by art history as by broad, often personal themes," MET Director Thomas P. Campbell said in a statement. (Museum curators: they're just like us!)
Topics of the first four episodes range from why one curator thinks maps are interesting ("Is it about grasping the world in a single glance or is it about setting off on a journey? It's a little of both") to a painting conservator's affection for technical virtuosity ("It's like a virtuoso musical performance where the ability to throw in that extra at the right moment turns the painting into poetry"). Upcoming episodes unpack pesky arty dichotomies like the colors black and white and the ideal man and woman.