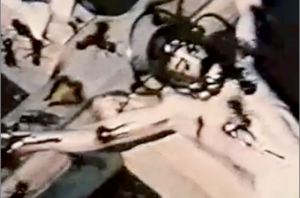 After the much-decried removal of David Wojnarowicz's video A Fire in my Belly from a Smithsonian exhibition earlier this fall, the New Museum decided to screen the work in its lobby for a month and a half. The Museum of Modern Art did them one better: they bought it.
MoMA announced this morning that it has acquired a complete version of the film—both its original 13-minute version and a 7-minute excerpt made by the artist. With the purchase, MoMA seems to be sending a pointed political message to the Smithsonian, which took down the video after pressure from the Catholic League and Congressional Republicans.
But MoMA didn't just purchase the video. In what is more like a middle finger than a finger wagging to the Washington institution, the museum announced the work would go on view—today—in its massive Contemporary Art from the Collection exhibition. (New acquisitions are rarely displayed immediately.) The video will join a group of other art works made, like A Fire in My Belly, during the AIDS crisis in the late 80s and early 90s.
In a statement, MoMA called the late Wojnarowicz "one of the most influential artists to have emerged from New York in the 1980s." A Fire in My Belly will be the 13th Wojnarowicz work to join its collection.
MoMA's acquisition will certainly frustrate those who hoped to limit the video's viewership. MoMA serves a much larger volume of visitors than the National Portrait Gallery, where the video was originally on view.
A spokesperson for Representative Eric Cantor once called the video, which features ants crawling on a crucifix, "an outrageous use of taxpayer money and an obvious attempt to offend Christians during the Christmas season." But while the Smithsonian exhibition closes in February, the offending work will now be on view for Easter, too. MoMA's exhibition runs through May 11.
David Wojnarowicz "A Fire in My Belly" – Smithsonian, National Portrait Gallery Edit from ppow_gallery on Vimeo.