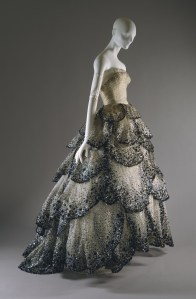 Jonathan and Elizabeth Tisch's donation to the Metropolitan Museum of Art will build more than a new Costume Institute Gallery–it could canonize a new set of fashion-design superstars.
Last week, the billionaire Tisches made a $10 million gift to the Met that will fund a 4,200-square-foot namesake gallery and state-of-the-art storage for the institute's 35,000-item archive, projects that have been little more than fund-raising fantasies for the Met for more than a decade. The couple's largesse, insiders said, could propel Lizzie Tisch onto the Met's tony board of trustees.
But, even more significantly, the reconfiguration of the Costume Institute will change which and how many fashion designers are given shows, said Costume Institute curator Harold Koda. Instead of having one big show, curators will be able to build walls for multiple small, "jewel-like" exhibitions-introducing visitors to the works of little-seen designers.
Who'll get the star treatment? "I'd love to have small shows about American designers–Bonnie Cashin, Giorgio di Sant'Angelo" or early-20th-century designer Jessie Franklin Turner. She is "known to costume historians, but no one on the street would know who she was," Mr. Koda said. "We haven't been able to do these capsule shows because it's always been a big space."
That could be a boon to the bottom line of fashion houses, said couture collector and Heritage Galleries head of business development Tiffany Dubin. Fashion "shows have been extraordinary moneymakers [for the museum], so now that'll translate to helping retail," said the founder of the Sotheby's couture department and author of Vintage Fashion. "The next step is for people to start thinking that when you buy a Jason Wu, you're buying a moment of history, and if it's in a museum, it adds a resale value." Fashion is "validated in a way," she said.
"This gift is truly transformative," the museum's director, Thomas P. Campbell, said in a statement. In the new gallery, "the possibilities for creative interpretations of the collection" will be "unlimited."
The Costume Institute plays an outsize role as a publicity and fund-raising vehicle for the Met. Its exhibitions and events, chief among them the annual Anna Wintour-chaired gala in May, bring in millions each year, plus celebrities (last year's gala drew Justin Timberlake, Hugh Jackman, Iman and Sarah Jessica Parker) and buzz.
The institute has had its roots in commerce since it launched in the 1940s with a collection of clothes from Bloomingdale's. But, for 40 years, the institution declined to showcase living designers, until saluting Yves Saint Laurent in 1983 with a show that "consecrated" the couturier, said Rogues' Gallery author Michael Gross, a gadfly critic of the institution.
On his blog, Mr. Gross wrote, "The subtext of a $10 million gift to the museum" is that "it typically buys a seat on the board." (Mr. Tisch's uncle, Laurence Tisch, once donated $10 million and served on the Met board.) It's not much of a stretch, then, to imagine Lizzie Tisch, who's routinely spotted at fashion shows-pink Birkin in hand-or on Vanity Fair's annual Best-Dressed List, slipping into a seat on the glamorous board.
"The board would be a good place for Lizzie," said high-society scribe David Patrick Columbia, in an email. "And the days of Condé Nast and Anna Wintour dominating the Costume Institute are numbered on simply actuarial terms."
But Mr. Koda said that advancing knowledge was the Tisches' motivation for the gift. "Lizzie is engaged by fashion, but she doesn't live for it." The gallery was always about "education-that was the point."
Mr. Tisch is a big donor, once giving $40 million to Tufts, and his wife heads the Friends of the Costume Institute–but the "magnitude" of their gift was a surprise, said Mr. Koda. The Tisch name is already emblazoned across two N.Y.U. buildings, at the entrance to a Central Park zoo and in the halls of the Met. The family runs the Loews hotel and cinema chains and has oil interests and a stake in the New York Giants.
As of now, the institute's U-shaped gallery of glass vitrines and roped-off platforms isn't ideal. "Every show looks like the one before it," Mr. Koda said. After the renovation, it will look like a traditional art gallery: an open rectangular space that allows visitors to walk around costumes.
But, why all this fuss about garments? Ms. Dubin said the Met's Costume Institute "encourages the young designer … to think of their work in the context of our culture and history." The Tisch donation, fashion fans and museum insiders are hoping, will elevate designers' work one step closer to the realm of high art.
editorial@observer.com