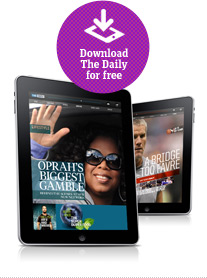 The CSS curtain has been drawn back ever-so-slightly on TheDaily.com–web home of Rupert Murdoch's tablet newspaper of the same name—to reveal evidence of the following features, reports Poynter.
"pithy writing styles" and a "photo dominated front page"
forward and back buttons
a "Share Links" button, which suggests Facebook, Twitter, Digg, Reddit and Newsvine article sharing options.
links to Vimeo and YouTube
password protection, though it is unclear whether it's public-facing or administrative.
The social "sharing" functions are significant, because they suggest The Daily's designers are finding a way to route crucial social media traffic in spite of the paywall, but overall we probably would have guessed the site would have all these things. And we know that aggregating these scraps of information instead of waiting the, what, six days for it to launch only validates News Corp.'s hype-mongering campaign of secrecy, which reporters in general probably shouldn't encourage, but goddammit, Murdoch, it's working.
kstoeffel@observer.com :: @kstoeffel