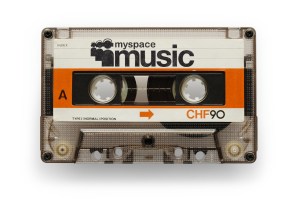 So what if MySpace has fallen on hard times? Its kitsch value is through the roof.
"My No. 1 form of music is listening to vinyl records," Rachel Coleman said at an album release party at Death by Audio in Williamsburg on Friday. "Even though I'm a blogger, I like my antiquated technology. I'm used to it, and I'm comfortable with it, and I want to use MySpace in the same way that I use my record player."
Speaking between sets at the two-room waterfront concert space, Ms. Coleman, a Nielsen editor, Blogspot music blogger and reality-show winner (Food Network's Worst Cooks in America) adjusted her large, transparent frame glasses and laughed. "Maybe I'm old school," she said. "Maybe at my ripe old age of 25, I'm old school. But, still, if a band sends me a link, I prefer it to be MySpace."
Last week, the site laid off half its staff ahead of a possible sale, and it currently claims one tenth the users of its Golden Globe-anointed rival. But because of recent competition in its last hold-out market–free band promotion with streaming music–it's carved out a distinct aesthetic for itself as a News Corp.-owned underdog among a certain Brooklyn set.
"It's kind of like how you have those bands where they're like, 'Yeah we're putting our record out on cassette,'" said Matthew Perpetua, the founder of the music site Fluxblog and a contributor to Pitchfork and Rolling Stone. "It's that kind of contrarian impulse."
At the Williamsburg party, where one of the opening bands had released an album on cassette, a bald design student named Kyle was standing near the merch table and praising a MySpace competitor, the San Francisco-based Bandcamp.
"I go there now. But I don't want to go there," he said of MySpace. "I want it all to be on Bandcamp."
"O.K., I've never heard of Bandcamp," said his compatriot, a diminutive green-eyed artist named Meghan. She blew cigarette smoke back and forth. "So I'm still going to MySpace."
"No, no, and that's totally O.K., too," Kyle said quickly.
Much of the MySpace nostalgia is a response to Bandcamp, the glitz to MySpace's gutter and a necessary part of the equation, just as cassettes and vinyl would have no cachet without the dominance of MP3s. Moreover nobody wants to listen to a band that self-promotes too well.
Reached by cell phone–he had to plug it in–from his home in Worcester, Mass., Dominic of the big-in-Brooklyn lo-fi band Dom described crafting the background for his MySpace page from photo of a "weird African ceremonial garb thing" at the Boston Museum of Fine Arts. He said he lets his label manage his Bandcamp.
"Bandcamp's a lot more simple and stuff; there's not much dimension to it. It's just the page with streamable tracks," he said, calling himself "old-fashioned" in his MySpace preference.
"I think there's a stigma with anything that isn't MySpace," said Kiril Bauch at a Saturday loft party in Bushwick before a set by his band, the Toothaches, who are regular MySpace users. "It's just the gold standard right now. It's fun. The major problem I have with MySpace is that the pages are cluttered, and it's hard to load them, and it crashes a lot. But if not for that, I don't know why you would need anything else."
For some, the seven-year-old Web site is not nearly clunky enough. MySpace underwent a faux-sleek redesign in October that tried the patience of Nick Weiss of the Brooklyn duo Teengirl Fantasy. He called the older version "my favorite Web site, hands down." He's adept at the art of vintage Internet–the band has an Angelfire site thanks to him–but he was unable to make its new MySpace page look sufficiently retro.
"I mean, I tried," Mr. Weiss said. "I was legitimately so upset when I saw what had happened to the page. I thought about it for days. Literally, I was just devastated. And I tried immediately, I set the entire font of the page to Comic Sans and put a really intense animated .gif as a background and tiled it, but it still felt like a lie or something."
The sentimentality wrapped up in the site stems from the fact that most of the 20-somethings who make and discover new music came of age with MySpace, had personal profiles and will always think of it when Googling a new band. That's why Devin McManus, an agent with Panache Booking and a member of the band Elks, recommends that his bands start a MySpace page if they don't already have one, despite the fact that he is personally opposed to the redesign.
"If you put your cursor over the logo in the upper left, a slide will pop out of it or sometimes a deer will come out and stick out its tongue in a 3-D animation," Mr. McManus said. "Why is that necessary?"
Fergus & Geronimo, the band releasing the album at the party on Friday, has both a MySpace and a Bandcamp page, but drummer Jason Kelly says he and his band mate have considered ditching the Web entirely.
"Andrew and I have actually been talking about totally removing our Internet presence and just being a band in the way that bands have been for the past 40 years," Mr. Kelly said. "It seems like it'd be a lot more challenging, but it would be unique. Now, it would be unique."
But doesn't the inevitable demise of MySpace represent the end of an era?
"Oh, no," he said. "I don't even care."
dduray@observer.com