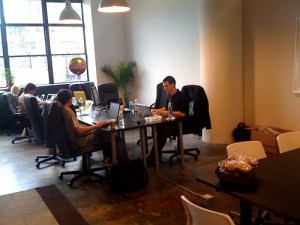 New Work City, the communal workspace for freelancers and entrepreneurs, has become a hub for non-nine-to-fivers over the last two years.
It's also played host to community events from Geek Movie Night to coding classes from Girl Develop IT, evolving from the place where people rent desks into the place growing local tech meetups like NY Night Owls call home.
NWC's new education initiative, NWCU, will further establish NWC as a community center for entrepreneurs, freelancers and techies.
NWC raised $17,000 on Kickstarter and moved to a new 4,700 square foot space at 412 Broadway this fall, allowing co-founder and head evangelist Tony Bacigalupo to devote part of the office to classes and events.
NWCU consists 12 to 15 recurring classes, workshops, and speaker panels on a range of topics from programming to non-profit work. Bacigalupo compares the series to the offerings at the 92nd Street Y or WNYC's The Green Space.
"We're starting out with some great meetups now, and soon will be producing some original programming around things like inbox and time management, bookkeeping, blogging, and more," Bacigalupo said in an email.
The first event, a $5 talk about data visualization put on by the journalists and developers group Hacks/Hackers last night, sold out with 84 attendees.
Upcoming events include Django NYC, Tech4Good and Ruby on Rails Meetup.
NWCU is talking to potential partners for classes and events and has already recruited a major sponsor that will be announced soon.
ajeffries [at] observer.com | @adrjeffries