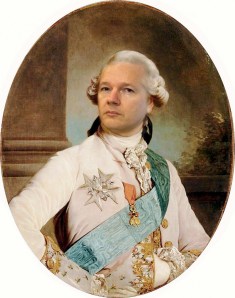 Like all great men of mystery, Julian Assange is famous for his varying appearance. And while his current situation, fighting extradition back to Sweden on sex charges, may be quite serious, the internet would prefer to explore the lighter side of things
The Julian Assange Coloring Book allows users to stay inside the lines in nine different stencil-like outlines of Assange, and a color palette to go with it. The website used free software called "My Coloring Book" from Kea Software. Color in a picture of Assange-as-Che or Assange with Santa. Assange may bring down Bank of America, but how silly would he look doing it with fushia hair?
Speaking of Assange's hair, 99designs.com recently announced the winner of their contest, Design the next great hair style for Julian Assange. User "dezinerly" won the first place prize of $250 with his depiction of Assange as Napoleon, which is fitting for a man described by his former colleagues as a narcissistic control freak.
Let other people argue about whether he is an information freedom fighter or diplomatic traitor, a rapist or the victim of a set-up. Isn't it more entertaining to debate whether he looks better with a mohawk or a mullet?