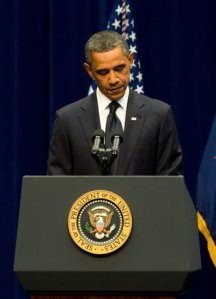 President Obama eulogized the six slain and congreswoman Gabrielle Giffords in the Arizona shooting last weekend at a memorial service in Tucson last night–and he delivered a message to those on seemingly both sides of the aisle who have been quick to politicize this tragedy.
"What we can't do is use this tragedy as one more occasion to turn on each other," he said.
Obama also delivered the news that he visited Giffords and that she opened her eyes for the first time.
Take a look:
Visit msnbc.com for breaking news, world news, and news about the economy