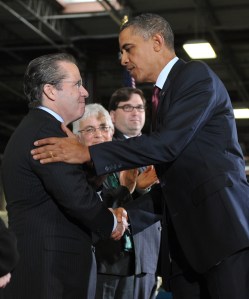 Last week Barack Obama named the pair of white male veterans of Wall Street and the Clinton administration who will be replacing the pair of white male veterans of Wall Street and the Clinton administration who had largely defined his first two years in office. The Professional Left did not take the news well.
"The appointment of the obscene corporate hack William Daley should put to rest any and all illusions people have on the Obama administration," wrote progressive political consultant Joe Costello to his listserv of likeminded progressives within hours of the announcement that the JP Morgan executive would be replacing Rahm Emanuel as White House chief of staff.
Gene Sperling, who replaces Larry Summers as chairman of the National Economic Council, a post he also held during the Clinton administration, garnered similar reviews. "He's just totally oblivious to the issues facing our financial system and the economy," said the economist Dean Baker, co-director of the Center for Economic and Policy Analysis, who greeted the news of Mr. Sperling's appointment with a blog post lamenting his "horrible track record" during the 1990s. "But the bottom line is that that's just not their priority. They do know what they're doing, in that they don't really want to do anything."
"If you want to get some traffic on this one," a former senior House aide told The Observer, "make your angle 'Obama's Fixers to End the New Deal.' They are going to dismantle Social Security. I guarantee it. And he won't suffer any push-back. But Obama is the extremist here; he is the wing nut. There's been a total collapse of political power on the left. The left is not even at the table, and they don't even realize it. You can't blame the voters. In 2006 they voted out the party of endless war and corporate bailouts. In 2008 they voted out the party of endless war and corporate bailouts. And in 2010 they voted out the party of endless war and corporate bailouts."
"These people are as clueless as World War I generals," wrote Harper's Magazine columnist Thomas Frank to The Observer in an email. "They have no idea what's going on in the country or how to deal with it. They just take the advice of long-discredited Washington experts and political scientists. There is nothing original or inventive about them, and I am almost ashamed that I ever thought there was."
The Observer consulted the acknowledgments of Mr. Sperling's 2005 book, The Pro-Growth Progressive, and canvassed a few of the more than 150 people he thanks. From the random sampling, no positive responses were received. Mr. Baker weighed in, as quoted above. Another economist said he had nothing positive or negative to say about Mr. Sperling. A left-leaning lobbyist phoned to say that, although he did not want to be quoted for attribution, he had called in part out of curiosity. "Gene really named me in his book? I mean, I've known him for probably 20 years now, but I don't think we've ever worked together on anything I agreed with him about." He added diplomatically, "But you can't blame Gene or Daley or any of these aides for the administration. They're carrying out Obama's policy. This is him. He's not the guy we elected."
And who would "the guy we elected" have appointed to such positions? In 2008, the left was pulling for Mr. Obama to nominate Sheila Bair, who chairs the Federal Deposit Insurance Corporation, to the Treasury secretary position, even as Tim Geithner was trying to push her out of the government altogether. The left also trusts former Fed chairman Paul Volcker, but he is resigning this month after being mostly ignored in his post chairing the Economic Recovery Advisory Board. Adored too is Elizabeth Warren, who was finally charged with setting up a Consumer Financial Protection Bureau after a bitter fight with centrist Congressional Democrats. All three regulators happen to be Republicans, albeit relatively inactive ones. In terms of economic personnel, the liberal wing of the Democratic Party might reasonably be termed a vacuum.
There is a long list of hard factual grievances to bolster the left's criticism of Mr. Obama's latest appointees. In an incestuous twist, Mr. Emanuel is running for mayor of Chicago, an office Mr. Daley's brother, Richard M. Daley, announced he was relinquishing in September after his seven terms. William Daley has spent most of his life trading on his political connections in the corporate world, and in turn using his corporate Rolodex to secure himself critical roles in political campaigns. No policy wonk, he has long obsessed over the Democratic Party's loss of the white working-class voters, and according to the late Robert Novak, in 1988 lamented the ascent of Jesse Jackson and "what looked like a black party" to television viewers of the Democratic National Convention. Appointed NAFTA czar by Bill Clinton, he assured the passage of legislation that would hasten the exit of millions of jobs formerly held by the same white working-class voters. His success earned him a place in Mr. Clinton's cabinet as commerce secretary.
Since then he has floated from nebulous corporate gig to nebulous corporate gig, most recently serving in the "corporate responsibility" office of JPMorgan, where he functioned for six years as an in-house lobbyist. In 2007 he sat on a Chamber of Commerce panel that published a report recommending the dismemberment of much of an already compromised financial regulatory system. Behind that teetering latticework, of course, a multitrillion-dollar systemwide bankruptcy was hiding.
Yet for all that, Mr. Daley may be more palatable to the left than his predecessor. Mr. Emanuel, another former Clinton aide-turned-investment banker, distinguished himself in Congress by personally raising more money from the financial-services industry than any other legislator in history. Later, he led his party to sweep both houses of Congress in a campaign bankrolled to the tune of tens of millions, mostly donated by mercurial hedge fund hotheads who would indignantly reverse their allegiances four years later, taking the Legislature with them.
The relative case against Mr. Sperling as a corporate tool is even weaker in light of Mr. Summers' illustrious record. A much decorated economist who worked with Mr. Sperling during the Clinton administration remembers him as an overeager if largely "ineffectual" workaholic who grated on colleagues "because he was obnoxious" even if he never approached Mr. Summers' famous arrogance. "He's Larry Summers without the smarts but with a smile."