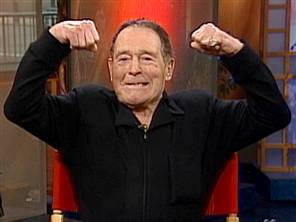 As we mourn the loss of fitness guru Jack LaLanne, let's remember that no man–not even the most health-conscious man in history–lives forever. And rather than grieve, let's give thanks for all he gave us. Not just our health, but our health gurus. (And inspiring Martin Short's Uncle Jack cameo on "Arrested Development" was cool, too.)
The television workout genre has given us some fascinating characters to watch wiggle around on daytime television, while we lay very still on the couch, nursing a hangover. Their hopeful, rhythmic yelps of encouragement still eased our mortal pain.
Rest in peace, Jack LaLanne, and thanks for giving us these guys.
Click through to see The Well-Toned Spawn of Jack LaLanne.>>