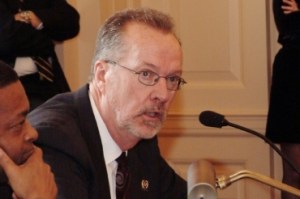 State Sen. Jim Whelan (D-Atlantic City) rose out of city politics with the usual divisions nagging at him as he gutted upwards, and now a lingering local antagonism has returned in an election year, full-fledged in the form of Mayor Lorenzo Langford.
Langford defeated Whelan 56% to 43% in the 2001 mayoral election, then disappeared from the pulpit of politics briefly before resurfacing in the aftermath of Mayor Bob Levy's 2008 meltdown.
Now Langford wants the legislature to revisit the provisions for the creation of a Casino Reinvestment Development Authority (CRDA) and gaming district in Atlantic City and tomorrow intends to plant himself behind a podium at City Hall to declare his own game plan.
Already alert to Assemblyman Vince Polistina (R-Egg Harbor Twp.) pawing the general election turf, Whelan projects no public alarm at Langford's criticisms of the CRDA and gaming district.
"There are concessions at the request of Mayor Langford," said the senator.
But not enough, according to the mayor, who last week told PolitickerNJ.com that he felt cold-cocked by an 11th-hour amendment to Assembly Bill 3581 that would expand revenue from the AC airport sale to the counties of South Jersey.
Will rancorous relations with Langford hobble Whelan with his own party on his own urban base in an election year?
"You don't look at it through a political spectrum," Whelan said. "We're hemorrhaging jobs. If we sit here and do nothing, or if we sit here and wait for the perfect plan, we will lose another 10,000 jobs.
"I don't understand," added the state senator, referring to Langford's objections. "You got what you wanted."
Whelan told PolitickerNJ.com last week that he personally was unhappy about the airport amendment, but it was "something, frankly, the governor insisted on," the senator said.
Whelan acknowledged that he hears grumbling in the city about the lines of the gaming district, but reiterated the need to move now with the CRDA for the sake of job creation.