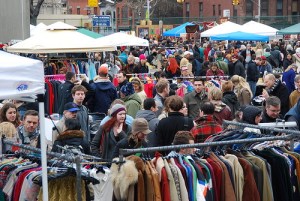 BroBos, to your corners!
There's a fight brewing between two of Brooklyn's biggest flea markets, according to the Post. Williamsburg's Artists and Fleas has just moved into new, bigger digs, where it will take on the invaders from Fort Greene's Brooklyn Flea, which is opening up shop in North Brooklyn for the first time this summer.
As usual, the tender Brooklynites refused to let on about the coming bloodshed. "We're really excited to have them close to us. We're not threatened or afraid. I can't wait," Artists and Fleas manage Kerry O'Hara told the Post. And Jonathan Butler, the blogger behind Brownstoner and co-founder of the Brooklyn Flea, had this email message for The Observer:
Should be a win-win. After all, Chelsea benefited from a concentration of markets back in the nineties. The folks who run artists and fleas are also very nice so I'm sure we will all peacefully coexist. It's hard to imagine how our bringing in an an extra 5,000 flea market enthusiasts a day would hurt their business.
Nice try, Butler. The Observer knows full well that this is part of a nefarious scheme to conquer all of Brooklyn with hand-knit tea cozies and leftover pickling brine.