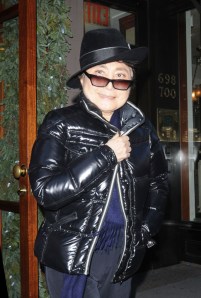 Thirty years ago, John Lennon was gunned down outside his Central Park West home, so it stands to reason the Dakota would have decent security.
Apparently not, as Yoko Ono bumped into a Korean tourist who had snuck into the building to snap pictures on the roof. (It is pretty picturesque up there.)
According to the Daily News, the tourist, Sungno Kim, got in through a service elevator but took the regular one down, where he ran into Ono.
The lift stopped along the the way, and the wife of the slain Beatle entered, said NYPD spokesman Paul Browne. "He did not recognize her. He did not engage her in conversation. There was no interaction between them," Browne said. "When they both got off on the main floor, the security people, who had already seen him from cameras on the roof, intercepted him and held him for police."
Residents are livid, according to the Post, and may toss the management company and the security guards, even though Kim appears to have been clueless.
"The whole reason they have heightened security there, more than any other building, is because of [Ono and the late Lennon]," said another building source.

Kim said he didn't mean to worry Ono, saying he went to the building at 1 W. 72nd St. after reading about it in a guidebook. Kim was intrigued to learn it was once home to Lennon, who was killed by Mark David Chapman outside the building on Dec. 8, 1980. "I'm a Beatles fan. I went to see where John Lennon lived," Kim said. He claimed he didn't recognize Ono.
If only John and Yoko had moved to the suburbs after all, there wouldn't be these kinds of problems at the Dakota.