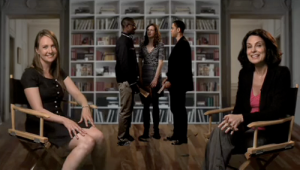 Giovanna Calvino, an adjunct literature professor at NYU, is currently creating a new Web series of fashionable book talks called "Amateur Thursdays," which, according to a post on the Kickstart Blog, will "film the show in some of New York's wonderful cultural institutions — such as The Strand bookstore, for instance."
But if that does not work out, Calvino could probably just host the salons in her new three-bedroom co-op at 1150 Fifth Avenue.
The only child of renowned experimental author Italo Calvino, Giovanna Calvino just paid $1.9 million for a high-floor apartment in the 1924 J.E.R Carpenter building, according to city records. The apartment features eastern and southern exposures, which afford expansive, if indirect, Park views. When asked by The Observer how the apartment fared in the bookshelf department, the listing broker, Halstead's Eloise Johnson, said, "There are some, and they're nice, but not a lot." Add that to the punchlist.
SLIDESHOW: Giovanna Calvino's Fifth Avenue Salon. >>
The apartment was converted five years ago from a classic six into its current three-bedroom layout by the previous owner, according to Johnson, who handles many sales in the building along with her colleague Dianne Sirni. Thanks to a generous layout, the large dining room became the master bedroom, the maids' quarters were turned into a master bathroom, and the gallery now serves as a dining room for parties, though there is also an ample eat-in kitchen. "Not many allow for that, but this one flows perfectly," Johnson said.
Yet it appears the apartment was not quite big enough for the sellers and their two children, who have since moved to the suburbs. "They already called and said they miss the city," Johnson said, "but I think we're going to find them a nice pied-a-terre." According to city records, the apartment was sold to Calvino by Constantine Demopoulos, a clynical psychologist who lists a current address in Darien, Conn.
Calvino, who could not be reached for comment, appears to have moved for much the same reason as Demopoulos. She used to reside in a one-bedroom at The Beekman Townhouse at 166 East 63rd Street, a condo built in 1959 and designed by Emory Roth, architect of the Empire State Building. But as she explained to Kickstarter in June, she is no longer the "newest direct descendent" of Italo Calvino. That honor now belongs to her 1-year-old daughter, Violette.
SLIDESHOW: Giovanna Calvino's Fifth Avenue Salon. >>