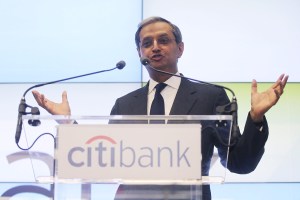 Authorities are throwing cold water on a transcontinental story of alleged fraud involving the CEO of a major U.S. bank: Indian police say that Citi CEO Vikram Pandit is unlikely to be pulled back to his homeland for questioning in an inquiry concerning one of his bank's branches on the subcontinent. Previous reports had indicated that Mr. Pandit and other Citi execs had been named in a complaint alleging a roughly $66 million fraud at the bank's Guragon branch.
Not so, the BBC reports:
"The possibility of involvement of the global CEO… looks remote," [Guragon police chief SS Deswal] said on Wednesday, according to Press Trust of India news agency.

The investigation was instead focusing on several of the bank's employees in India, he said.
Citigroup (C) has also issued a statement saying that the charges are "completely without basis." Mr. Pandit, you're free to go.
mtaylor [at] observer.com | @mbrookstaylor