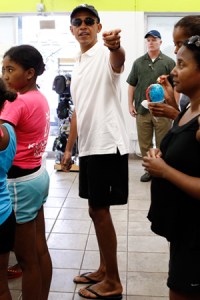 Ladies and gentlemen, the First Sandals have been inaugurated into office. While on vacation in Hawaii, President Barack Obama was caught before the lens of a shutterbug with not one, not two, but all ten toes basking in the Pacific sunlight. The New York Post consulted a bevy of presidential historians and fashion experts and decided that this is a monumental event.
"I can't say I've seen a president's toes before," said Jane Hampton Cook, presidential historian.
"I can think of no other president photographed in flip-flops," said Meghan Cleary, fashion expert.
"In public, no. I haven't seen the president's toes," said Doug Wead, presidential historian.
The Post then made the obvious point that such hitherto unpresidential footwear makes the commander in chief look a bit soft — or, as a "DC observer" put it, "You don't think you're going to see Vladimir Putin wearing flip-flops, do you?"
But remember, DC insider, the weather in Russia is not exactly ideal for flip-flops. But maybe Vlad breaks out his pair of toeless Adidas after a few vodkas, am I right? Nostrovia!
nfreeman at observer.com |@nfreeman1234
Click for Scandal Report: And Then The Model At Diddy's Party Burst Into Flames