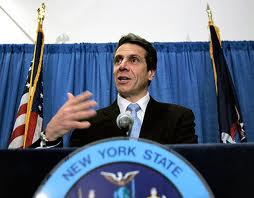 A new Quinnipiac University poll confirms that a soaring budget deficit is the most important issue to most New Yorkers, but also registers resistance to most budget-cutting measures other than freezing wages for state workers.
77% of respondents said New York State has "very serious" budget problems, and 70% were "dissatisfied" or "very dissatisfied" with the direction in which the state is moving. A clear majority preferred trimming services instead of raising taxes, with a resounding 82% supporting a cap on property tax increases.
But aside from the wage freeze, which garnered three to one support, no consensus emerged on where to cut. A majority opposed curtailing aid to public schools, scaling back Medicaid subsidies or reducing public pensions. New Yorkers were evenly split on whether to layoff state workers.
New Yorkers were also ambivalent on whether their government can fix the budget. They were split on whether Andrew Cuomo and the state legislature could allay the state's economic woes. More New Yorkers view Cuomo favorably than not, but 36% said they don't know enough about him; a plurality thinks he will be "about the same" as his father, former governor Mario Cuomo.