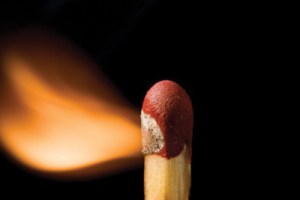 The deadline to submit ideas for Ignite NYC's fast-paced infotainment event on February 9th is midnight.
For the uninitiated, Ignite is like the popular talks on Technology, Entertainment and Design at the TED conference, but punchier. Each speaker gets 20 slides that auto-advance after 15 seconds. The result is a series of five minute talks on wide range of topics. Anyone can submit a proposal for a how-to, theory or personal story.
Topics at the upcoming Ignite include the following:
Dataviz from The Hip-Hop Word Count: "Using The Hip-Hop Word Count: A Searchable Rap Almanac. This talk will show how one can do a keyword search for the most popular CHAMPAGNE mentioned in Hip-Hop from 1979-2010. You will see beautiful dataviz results of the research: http://bit.ly/kickstarthhwc." (Tahir Hemphill)
Pluggable Culture: "Increasingly, we live in a world of powerful pluggable pieces. Invention is evolving from engineers work into something much more akin to cooking, where creators mix in ingredients to make something delicious and unique… That shift is enabling a new generation of makers and entrepreneurs to fit those prebuilt parts together quickly and build on top of them." (Eric Skiff)
Stranger Interaction Design: "Interacting with strangers is one of the great pleasures of urban life. This talk will expose some of the crucial unwritten rules and behavioral conventions that allow us to interact and coexist in public spaces from subways to sidewalks to corner cafes–and how those same rules play out when we interact with strangers online." (Kio Stark)
What the Post-it note can teach us about apps and data: "…Using familiar examples, this talk will focus on this disparity and argue that people are actually very clever at working with information, and that those things point towards thinner applications that let people interact more directly with information and towards computational storage that works more like Post-it notes." (Terry Jones)
Stick Maps and Stone Men: "Before GPS and satellite communications, people used sticks and stones to find their way. In 2011, we need to relearn how to use action and our haptic sense to root ourselves to the physical world. People are becoming split into two selves: one body is invisible and built of information, bonded to a network via mobile devices- while our other body is still a corporeal lump of nerve endings and immense feelings. What defines our humanness isn't just our intellectual curiosities but our physical lives and the real physical world our bodies occupy. Stick Maps and Stone Men are more useful than iPhones." (Emily Fischer)
"Also, themes that I've noticed amongst submissions included, designing "how-tos" for different usecases, data storage and visualization, education, stranger interactions, communication strategies, and stories of life-changing events," organizer Tikva Morowati said in an email.
Ignite NYC XI will take place during Global Ignite Week and Social Media Week on Wednesday, February 9th at Galapagos Art Space in Brooklyn.
Watch a video here of Foursquare founder Dennis Crowley at Ignite NYC III, talking about how he and his family trained for the game show Family Feud.
ajeffries [at] observer.com | @adrjeffries