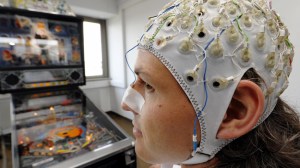 Quickish launched yesterday with sports news stories aggregated from places like Slate, Business Insider, even The Awl, stripped down to their elements and appearing in a real-time (ish) stream at Quickish.com.
A link, source, category, headline or sentence to capture the gist — that's all people want in a news feed, according to founder Dan Shanoff, a former executive at Associated Content and producer at ESPN.
The items are aggregated from around the Web by editors pulling stories from everywhere (mostly via Twitter right now). It feels like peering into someone else's RSS reader.
Some items are teasers, necessitating a click; others are quotes or single-serving summaries, with a dash of attitude. The sidebar on the right tracks what stories are trending up, holding steady or recommended.
Like aggregators TechMeme and Mediagazer, Quickish encourages people to alert editors to good news content via email or Twitter.
The New York-based site launched in public beta yesterday, aggregating just sports news. Shanoff plans to branch out into other categories in the second half of the year.
The site looks good on an iPad and has some premium spots for sponsored items. But it sounds like a big bet on micro-content, where it faces competition from all sides.
Quickish's real-time feed puts it up against sites like Tumblr, Twitter and TechMeme. The news element puts it up against established giants like The Huffington Post and Slashdot, the reliance on tips puts it up against the TechMeme empire and the tone produced by having human editors reminds us of one-man uberblogs like Kottke and Daring Fireball.
Quickish may be able to score a niche by combining these elements and emphasizing speed.
"People have made it clear how they want to stay updated: Fast," Shanoff said in a press release. "Quick to know something happened, quick to access the best of what is being said, quick to consume, quick to recognize if something is worth their time."
It'll be tough for Quickish to squeeze in between existing aggregators and content sites; but who knows, one day millions of New Yorkers may browse Quickish on lightning-fast Verizon iPhones.
ajeffries [at] observer.com | @adrjeffries