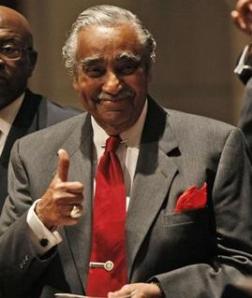 In a brief interview following the State of the Union this evening, longtime Harlem congressman Charlie Rangel had high-praise for Barack Obama's speech, but said it was up to Republicans to see how much of an impact it made.
"It's like the President said," Rangel told The Politicker, "We can sit together symbolically, but unless we work together, if Republicans want to repeal health care…if they want to get rid of President Obama instead of pushing forward for a more prosperous economy, it doesn't mean anything."
He added, "Saving our country and creating jobs is far more important than starting a campaign now."
Rangel said that the bi-partisan seating arrangement was "good and fun" and created the best atmosphere than he could remember in his 40 years of State of the Union addresses. He said that several new members from the other side of the aisle even came up and asked him for an autograph.
His own personal seating buddy was Peter King.
"He's an old buddy," Rangel said. "We didn't learn anything."
But Rangel expressed doubt that Republicans would be unwilling to let the comity continue, especially in light of Rep. Paul Ryan's response to the State of the Union, which called for serious reductions in spending on Medicaid, Medicare and Social Security.
"C'mon. Can you believe that people at the lowest end of the ladder will have to pay for the mistakes our country made in going to war, for Wall Street in its negligence? It's just not fair to reduce the deficit at their expense."
And he noted that even though Ryan is one of the leading fiscal conservatives in Congress, there will be people within his own party who will be dissatisfied with his reductions.
"Ryan is going to look like a liberal compared to some of the Tea Party. They have no idea what government is about."