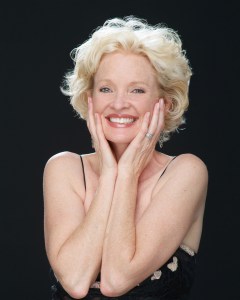 Perfection is not an overused word in the cabaret world, but I use it without reservation when making even a feeble effort to describe Christine Ebersole's dynamic, touching, beautifully conceived new act at the Café Carlyle. Unencumbered by the phony titles and pointless concepts that plague other "theme" shows, she simply steps to the postage-stamp stage, splendid and glowing bright like a sunflower nourished by neon, shaking her fluffy blond coif in her above-the-knee black sleeveless dress garnished with perfectly placed pearls, opens up her heart and sings. What she sings, so sure and clear it makes your liver dance, is the first swinging jazz version of "Ding! Dong! The Witch Is Dead" since the June Christy album The Cool School. It is enchanting.
The connective thread is youth–the things we remember when we had it, and the stuff we do to keep it. This gives a purpose and a lift to an eclectic little yellow basket of dream tunes, from Oscar Levant's "Blame It on My Youth" and the Carolyn Leigh-Johnny Richards classic "Young at Heart" to the jazz singer's lament "You Forgot Your Gloves," dedicated to the frisky cops in airports across the world who pat you down in the name of homeland security. ("Is that the Bill of Rights in your pocket, or are you just happy to see me?") You never know what she'll come up with next. You'll get a new lease on life when she sails and shakes her way through a Sophie Tucker show-stopper called "You Can't Deep Freeze a Red Hot Mama, 'Cause You Can't Get Her Temperature Down." With Ms. Ebersole, you can't do it with a Kelvinator. She self-defrosts on her own time.
In a class by herself, she dazzles with a scrubbed smile of pure Pepsodent. She has a real feel for time and rhythm, and an awesome range that runs the gamut from classical to jazz and Broadway show tunes with equal bazazz. And she finds new ways to refurbish old tunes in ways that knock you lopsided. "If I Were a Bell" is no longer the emancipation proclamation of a sexually uptight Salvation Army volunteer in Guys and Dolls who's had too many tropical punches on a weekend fling in Havana. She turns it into a tender ballad expressing the joy she felt on the first night she met her two adopted children. Why has nobody thought of singing that song before now as a lullaby? With the support of pianist-arranger John Oddo, who worked for many moons as Rosemary Clooney's musical director, and under the hip guidance of Scott Wittman, the Tony Award winner who co-wrote Hairspray, she leaves no stone unturned and no lyric line unphrased in a show that builds like a cantilevered terrace, level by level. The highlight is a dramatic journey into the heart and soul of her dynamic Broadway musical, Grey Gardens, with her historic reading of "Another Winter in a Summer Town." She brings New York's often reserved, seen-it-all ringside high rollers to a screaming standing ovation. I've seen her in every incarnation, but this is undiluted perfection.
For a girl who has always dreamed of clicking her red heels together three times and waking up looking younger than the picture in her driver's license, Christine Ebersole has more talent, magic and charisma in her manicured index finger than anyone who ever bought the whole beauty shop at half her age. She is in a class by herself, and missing this show is as inadvisable as burning the American flag on the steps of the Pentagon. Ms. Ebersole, with the razor sharp wit and the voice of polished taffeta, is it clear that I love you?
rreed@observer.com