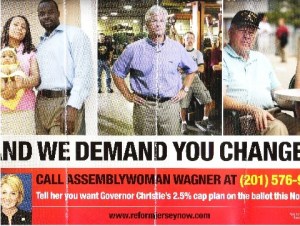 Bayonne Medical Center is a rogue hospital eschewing its patients for a buck, according to Horizon Blue Cross Blue Shield.
The only way to provide service at all, the hospital retorts, is to refuse Horizon's measly reimbursement.
This clash dates back years and is indicative of larger health care issues that plague the nation.
Several strands of a four-year fray between the largest insurance provider in the state and the now-profitable Hudson County hospital came to a head recently.
Among the developments: the revelation of a $25,000 donation from Bayonne Medical Center to Reform Jersey Now; attack mailers against a legislator; the unicameral passing of S1468; and, potentially, the sale of the only city-owned hospital in the state.
Transparency in health care
Last week, state Sen. Loretta Weinberg (D-Teaneck), chairwoman of the Health and Human Services Committee, ushered S1468 to passage in the Senate, a bill that greatly increases the level of state and public disclosure for private hospitals.
It passed 23-15, with Sen. Diane Allen (R-Edgewater Park) the only Republican aye.
"Even privately-funded hospitals may receive a substantial amount of taxpayer funds in the form of Medicaid reimbursements or charity care aid," Weinberg said in a release. "In those cases, the taxpayers of New Jersey should have greater transparency to see how their funds are being spent."
Weinberg said for-profit hospitals are different than other profit-seeking businesses, in that their privacy may put residents at a disadvantage.
In Bayonne, for instance, she said the community can choose their fast food, but they cannot choose their hospital. Bayonne Medical Center is the only one on the peninsula.
Dispute over disclosure
Reached by phone last week, Daniel Kane, CEO of Bayonne Medical Center, said the bill – which is opposed by the New Jersey Hospitals Association – requires private hospitals to disclose information above and beyond the requirements currently in place for public facilities. For-profit hospitals are already held to the same state disclosure standards of their not-for-profit counterparts, Kane said.
The bill presents "no public policy rationale," according to Kane, and the increased disclosure will most likely scare away private equity capital investors that could otherwise swoop in to save operations of some of New Jersey's many failing hospitals.
Weinberg gave another reason: "Unfortunately, privately-funded health care facilities are not immune to fiscal malfeasance and outright funding fraud. When such potential for abuse touches on public dollars, the public has a right to scrutinize spending."
The bill, sponsored by Assemblywoman Connie Wagner (D-Paramus) in the lower chamber, did not yet come to a vote there.
Enter Reform Jersey Now
At some point in the life of S1468, Bayonne Medical Center found an ally that may have allowed them to go on an anonymous offensive to fight the bill.
Recently, Reform Jersey Now, a 501(c)4 issue-based organization with very close ties to Gov. Chris Christie, voluntarily released its donor list from the past year. On the list was Bayonne Medical Center, a top-level contributor at $25,000.
Over the past year, Wagner – pressing hard for the bill in the Assembly – was tagged with three district mailers rallying the public in favor of Christie's initiatives and against Wagner. At the bottom of all three, the paid-for signature of Reform Jersey Now. They also robocalled her constituents.
Only a few legislators statewide have reported personalized RJN mailers aside from Wagner. The others are all upper chamber honchos: Senators Steve Sweeney (D-West Deptford), Jim Whelan (D-Atlantic City), Paul Sarlo (D-Wood-Ridge), and Robert Gordon (D-Fair Lawn).
Were Wagner's three mailers and robocall an attack specifically for the bill?
"I did question that," she said. "Can I prove it? Absolutely not. I'm on some pretty controversial bills."
Reform Jersey spokesman Michael DuHaime did not answer a call for comment.
Pushing undisclosed policy
Kane said the donation was for advocacy of "public policy that will enhance the ability of hospitals," although he would not say exactly what policies.
Weinberg, who knows Kane from his days at Englewood Hospital, shot back, "He's a very smart and able administrator. When he gives $25,000, I would assume he would know what that health policy is."
"For a healthcare institution to contribute that kind of money to a group with a less-than-clear reason for being is, at the very least, somewhat inappropriate," she said. "They look at this as a way to curry favor with the administration. There's no other reason."
Kane noted at least one other reason, which may overlap: "We support candidates for elective office who are supportive of hospitals and who have positions that support the survival and success of hospitals."
Bayonne's contribution – which would have never been made public unless RJN volunteered it – raises serious question that the bill addresses directly, Wagner explains.
"A non-profit has to report that (sort of contribution)," she said. "When people are struggling to pay their hospital bills…I do question the decision to contribute $25,000 to a political group."
"I know what administrators are making at non-profits, but not here," said Wagner, vice chair of the Assembly Health and Senior Services Committee. "If you are doing nothing wrong, report it."
Reimbursement issues
Bayonne Medical Center is a 278-bed acute care hospital on Avenue E in the peninsula city, and it was losing $1.5 million to $2 million per month in 2007.
They filed for Chapter 11 bankruptcy, but Urban Suburban Associates, LLC bought the operation, backed by real estate development company Fortis Property Group.
The hospital went from a not-for-profit organization, as most hospitals are, to a for-profit model.
That was when the battle with Horizon began, in earnest.
Kane said the major hurdle to keep the hospital viable was getting better reimbursement from the health insurers.
"Sixty percent of the hospitals in New Jersey are losing money," Kane said last year. "The reason is because of inadequate reimbursement."
In general, hospitals lose money for two reasons. Either they aren't paid enough by the state for uninsured patients, or they aren't paid enough by health insurance companies for insured patients, Kane said.
The health insurance companies have accused the hospitals of overcharging insured patients to make up for losses in uninsured pat
ient reimbursement.
State reimbursement is non-negotiable, but each hospital or hospital network directly negotiates their reimbursement from the health insurers. In those negotiations, small independent community hospitals, like Bayonne or nearby Hoboken University Medical Center, have little leverage to haggle for high-end rates of return.
Breaking away
Bayonne was being grossly underpaid by insurers, Kane said, like New Jersey's largest health care provider, Horizon Blue Cross Blue Shield.
Knowing the pain it may cause the community, he took the hospital out-of-network in 2008. He also knew that if he didn't, the community would soon be left with no hospital at all. Bayonne eliminated their contract with Horizon.
In-network, hospitals are guaranteed a certain amount of reimbursement by the insurer.
Out-of-network, hospitals still receive full payment for emergency visits (required by the state), and payment for patients whose insurance covers out-of-network costs, but they receive no payment for patients who are not covered out-of-network.
Excluding emergency visits, patients who are not covered out-of-network must go to a hospital that accepts their insurance, or pay the entire hospital bill out of their own pocket.
But, Bayonne – at least until recently – absorbed extra out-of-network costs so they didn't turn away patients; they only asked for the amount the patient would have paid in-network.
Full payment by the out-of-network insured and some payment by the others is making the hospital much more profitable than negotiated low payment for all visits, Kane said.
The battle of Bayonne
In 2009, a public relations battle spilled into the homes, offices, and streets of Bayonne.
Horizon mailed, couriered, and faxed letters – many to the bedsides of sick patients – alerting their customers and whoever else would listen that the hospital will bill them in full since their insurance is not accepted.
At the time, Horizon said they were "required by law to send letters to certain members when a hospital terminates to inform them that they will possibly be subject to higher out-of-pocket expenses by obtaining non-emergent services at an out-of-network hospital."
That said, the patients were scared and although the hospital was able to explain the situation to some patients, others left the hospital during care.
Horizon filed a U.S. District Court lawsuit in 2009 against Bayonne Medical Center claiming their billing practices – comping charges above what Horizon would have charged the patient – gave no incentive for patients to use in-network hospitals.
That summer, Bayonne returned serve, filing a suit against Horizon for alleged intimidation of patients, but it was dismissed without prejudice.
Near the end of 2009, Bayonne backtracked on their billing policy, according to reports, and said they would hold patients accountable for the entire bill, but Horizon is still pursuing the original lawsuit.
"The lawsuit is continuing because there are a number of unresolved legal issues and we believe that Bayonne business practices are unlawful," Thomas Vincz, Horizon's P.R. manager, said in an email to PolitickerNJ.
Horizon sent out a second round of letters to the community in December, 2010, declaring that the hospital bills are running-up premiums for everyone else. The insurer directed patients to get referrals for in-network hospitals, like Jersey City Medical Center.
"The letters referenced here are not required by law," Vincz explained. "Horizon BCBSNJ is communicating with their members to remind them that (Bayonne Medical Center) is out-of-network and that the best way to keep health care costs down for everyone is to use hospitals and health care professionals who participate in our network."
After all this, Bayonne Medical Center is reporting record profits and administrators believe it is a direct result of going out of network, but Vincz disagrees.
"It could also be evidence that the hospital is overcharging for their services. After going out-of-network, the BMC's average charges went from an average of $13,000 per day for in-patient care to more than $28,000 a day."
"If a business can more than double their charges, without any regulation, and force third parties to pay those prices, it's not hard to make a profit," he said. "It does not mean that what they are doing is right or beneficial to the health care system. In fact, it is not good for health care."
Labor issues, too
In 2009, labor issues flared up at Bayonne Medical Center with a three-day lockout of nurses and health care workers of the Health Professionals and Allied Employees labor union.
Labor negotiations were stalling and a layoff plan was put in place by the hospital.
In a statement, HPAE President Ann Twomey said, "A contributing factor to the layoff situation is the continuing dispute between BMC and Horizon Blue Cross, over rates and payment for out-of-network care. Our patients and our caregivers are caught in the middle of this dispute. We urge the intervention of our state regulators to address the issue and provide a resolution that reimburses our community hospital fairly for the services we provide."
Twomey resigned from the Board of Trustees at Bayonne, claiming her only function was "furthering the economic interests of the owners."
In her resignation letter, Twomey said the owners "have not been forthcoming and transparent with the information needed for me and the other board members to make decisions in the best interests of the community and the employees."
Last year, a measure that would pry open the ledger at Bayonne Medical and other for-profit hospitals hit Trenton, addressing exactly the concerns Twomey voiced.
It was introduced by former Bayonne Assemblyman Anthony Chiaponne – gone from the legislature after a corruption conviction – and is currently sponsored by Wagner.
Last week, the bill, now S1468, passed in the Senate with the shepherding of Weinberg and a nod from Allen, both close allies of Twomey and the HPAE.
The reason for lobbying
"It's not a particular bill (Bayonne is lobbying against)," said former U.S. Sen. Robert Torricelli, whose firm Rosemont Associates is one of two lobbyists for Bayonne Medical Center.
It's not a bill, and Bayonne's investors are already finding support from the new administration in Trenton, he said, so they're not trying to "curry favor," as Weinberg claims.
"I think they are comfortable with Chris Christie's philosophies (and they) believe there's a future in investing in private urban hospitals," he said.
That synergy contrasts harshly to Bayonne Medical's relationship with the state under Gov. Jon Corzine, he said, which also explains why Weinberg, Corzine's choice for lieutenant, is resistant.
In Torricelli's estimation, Corzine was "decidedly
biased against private investment" in hospitals and strongly in favor of state-managed health care facilities; i.e. no friend of Bayonne Medical Center.
Corzine showed this bias, Torricelli said, when his administration opposed the buyout of bankrupted St. Mary's Hospital in Passaic by creditors, which required no taxpayer funds.
That doesn't mean the whole operation in Bayonne is taking a partisan approach, he said.
It was actually Bayonne's other lobbying firm, Public Strategies Impact, that handled the Reform Jersey contribution, though senior partner Roger Bodman did not immediately return a request for comment.
For his part, Torricelli brought Bayonne Medical lobbying money to the feet of "moderate Democrats" too, like Sweeney and Assembly Majority Leader Joe Cryan (D-Union).
"Nobody needs anything from the Christie administration," he said. "They didn't need anything from the Democratic legislature either, (but) I think Sweeney and Joe have been equally helpful."
The for-profit hospital is not receiving any state-controlled variable funding, like the multi-million dollar hospital stabilization funding that was dished out under Corzine, so there is no need to lobby for state dollars.
The Bayonne investors' $25,000 contribution to RJN is just a matter of "helping people who have similar views," Torricelli said, "and like many Wall Street investors, they tend to be Republican." And in this case, they are helping Christie Republicans.
The only thing Bayonne wants is state support to increase purchasing power in order to add additional facilities to reduce operational cost, he said, which would also give the hospital better leverage to negotiate insurer reimbursement – which would end the out-of-network battle.
The Hoboken connection
If adding additional facilities is Bayonne's goal, they may need one thing from the state: sign-off on their purchase of Hoboken University Medical Center.
Last week, a holding company backed by Bayonne Medical Center ownership was awarded an exclusive negotiation period to purchase Hoboken's newly-renovated medical center, the only municipally-owned hospital in the state.
(Interestingly, Corzine's former Attorney General Zulima Farber is Hoboken's attorney for the sale.)
Kane could not comment on any potential buyout, but several Hudson County sources confirmed the situation.
Given the confrontational dispute between Bayonne Medical Center and the insurer, Christie's selection of Poonam Alaigh, executive medical director for Horizon Blue Cross Blue Shield, to become his director of the Department of Health and Senior Services probably was not counted as a win in Bayonne.
If Bayonne successfully concludes negotiations with Hoboken over the sale, they will need Alaigh and DHSS to sign off.
Christie's spokesman Michael Drewniak did not return a call for comment, but even Torricelli concedes, Bayonne Medical Center may need at least one thing from the state: a former Horizon exec's signature.