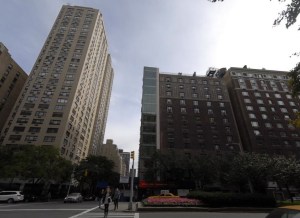 Luxurious glass condos and skinny finger buildings on tight lots became the norm during the real estate boom, sometimes all at once. Many stalled out yet have finally finished and found buyers, albeit at a reduced price.
Yet few have seen the struggles of 1055 Park Avenue, which narrowly avoided foreclosure in part because the developer filed for bankruptcy. The Journal reports on the possible explanations for a former $9 million penthouse selling for less than half that price, $4.3 million:
Why the project has struggled so much may be debated for some time. Neighbors complain that the design didn't fit in on an avenue of brick and limestone buildings.

Some brokers blamed the awkward, 19-foot-wide building lot, in which space for an elevator, two emergency staircases, and an internal apartment staircase had to be squeezed.

Still others cited unrealistically high prices or bad luck and poor market timing.

Mr. Davis said that the market was "extremely challenging and I am not the only one experiencing it." He added, "The good thing is the building has been completed and is now ready for occupancy. That is a big deal."
The Observer is inclined to agree with the irrate neighbors, that this just isn't the sort of home people are looking for on Park Avenue–those storied co-ops are about hiding from public view, not exposing yourself to it. Still, dear reader, what do you think is the case? Let us know in the comments.
RELATED: It's Free to Look: 1055 Park Avenue. >>