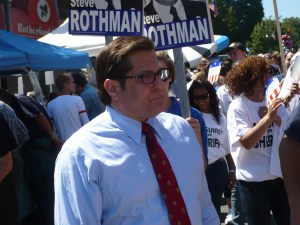 U.S. Rep. Steve Rothman (D-NJ09) challenged President Barack Obama's stance on earmarks in his SOTU response to PolitickerNJ, but generally said the commander in chief was right in Jersey's alley.
President Obama made education a focal point and spoke on many of the same issues that are demanding weekly headlines in the Garden State.
Even Gov. Chris Christie recently said he and Obama were completely aligned on the education front, facing teacher assessment and school funding issues.
Rothman said he was glad to hear the president speak out: "(R)eward our best teachers and take appropriate measures with those who aren't getting it done."
But maybe straying from Christie's charged rhetoric about penalizing bad teachers, he said Obama, "nonetheless encouraged the best and brightest of our young people to enter the teaching profession."
The president, to an odd mix of applause from the floor, also announced that he won't be signing any bills with earmarks going forward.
"Not for me," Rothman said. "The subject of congressional earmarks is a decision for Congress to make."
"The president makes about 90 percent of the earmarks," he said. "Congress produces about 10 percent of the total earmarks. Fully transparent earmarks for vital local projects not only allow those projects to be completed, these earmarks use federal funds and do not rely on local increase in property taxes."
"I appreciate his point of view on congressional earmarks," Rothman said. "I did not hear him say anything about presidential earmarks."
He said the House Republican majority is considering a moratorium on earmarks – which would explain why new Speaker of the House John Boehner (R-OH) clapped at the president's mention – although nothing has been established yet.
Freshman legislators, Rothman said, are beginning to realize "how important it is to bring federal dollars home to accomplish important work back in their districts."
Some legislators are even working on redefining earmarks, he said, "so that in the end, worthy projects that are requested in a transparent and open process…can be funded. The new Republican majority has not yet decided the nature of their earmark reform."
Another cornerstone of Obama's speech was infrastructure, "from high-speed rail to high-speed internet."
Rothman said, "New Jersey is the premier laboratory for innovation and new technology and so the president's call for investments in new American innovation are right up our alley."
"This is the kind of call to action and redirection of resources that I believe will benefit business and entrepreneurs in our state," he said.
Aside from the technological, Rothman, former mayor of Englewood, Bergen County, said he understands the physical need for infrastructure – roads, bridges, and tunnels – to repair the bustling, rusting grids of New Jersey.
"We are an older industrial state with a literally crumbling infrastructure that needs the kind of investments and repair that the president was speaking of," he said. "The president's agenda…really spoke in many, many ways to New Jersey's priorities."
Also, from a New Jersey standpoint, Rothman said he appreciated the president's affirmation of preserving national security, both foreign and domestic. (Obama's T.S.A. joke, notwithstanding.)
"His overall message: to encourage the Congress to find common ground on ways to create jobs and grow our economy to reduce our deficit," he said, "but at the same time make the necessary investments in technology and innovation that will keep America strong as a world leader."
"I thought the president did an excellent job," Rothman said. "It was a great speech."