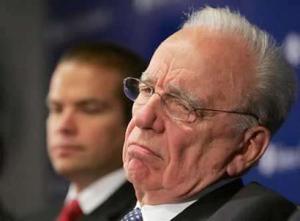 Not even the Christmas-morning-level excitement for the launch of The Daily can distract Rupert Murdoch from News Corp.'s shitshow across the pond.
Scotland Yard has reopened its investigation of News of the World's phone hacking tactics. Simultaneously, editor Ian Edmondson has been fired and former editor Andy Coulson (most recently working for Prime Minister David Cameron) resigned his Downing Street duties, suggesting internal knowledge of the hacking went much higher than the purported "rogue reporter."
Meanwhile, two reporters for BSkyB's sports network, Richard Keys and Andy Gray, have quit after their sexist remarks about a female referee were published on the Internet. Mr. Murdoch currently owns 39% of the satellite network, but is angling for full control.
BSkyB's founder Andrew Neil, also a former editor of Murdoch's The Sunday Times, told the Evening Standard:
"The sacking of Ian Edmondson, the Sky Sports people – he's been involved in everything this week. All this action is the last throw of the dice. Rupert is deeply depressed and he thinks the game for BSkyB might be up. He doesn't think it is mission impossible but he now thinks the odds are against him."
Murdoch even skipped the World Economic Forum at Davos to clean up the mess. Sacrifices, guys.
kstoeffel@observer.com :: @kstoeffel