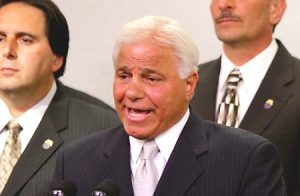 With another snow storm expected to hit the city by tomorrow evening, Sanitation Workers union chief Harry Nespoli told a Council committee tasked with finding out what went wrong during the last blizzard that the city has too few workers to properly clean up after a storm.
"I need more manpower," he said, citing the continual budget cuts that the city has undertaken in recent years. "If you don't think that takes a toll on what you are going to fight a blizzard with, you are mistaken."
The Bloomberg administration has denied that budget cuts affected their blizzard response, and in his testimony today, Deputy Mayor Stephen Goldsmith said that more people were cleaning the streets in this snowstorm than were out in the last blizzard in February.
But Nespoli had an answer for Goldsmith, whose job it is to find efficiencies.
"It is not nickel and dimes when it comes to people's lives," he said.
Because there is an ongoing investigation into a Sanitation Department work slowdown, Nespoli did not discuss the matter with the Council.
But afterwards he told The Politicker, "This was a disaster and they are going to look to blame somebody. I already got investigated, they talked to me about it. Whoever wants to talk to me I will talk to them, because I know in my heart that the men and women of this department did not slow down. Because the only time we get any glory at all is moving snow."