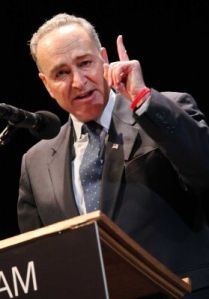 As we reported earlier, Chuck Schumer delivered a blistering address this morning about New Jersey Governor Chris Christie's decision to drop kill the trans-Hudson tunnel project.
Afterward, in a brief scrum with reporters, he was no less forgiving, saying that, "History will regard this decision as one of the worst that New York has made."
"We are one region," Schumer continued. "And we need to understand that if we don't improve transportation we will start shrinking and our young people will start leaving. It's that simple. I understand the minute-to-minute and day-to-day and week-to-week and even the decision this year. We have a real budget deficit. Let's find money anywhere. You don't eat your seed corn. You don't eat your young. It's that simple."
Schumer dismissed Christie's concerns about the cost of the project by pointing out that most of the money comes from the federal government–it was their largest public works project ever, he said–and from the Port Authority.
Christie's office hit back hard. WNYC spoke with Christie spokesman Michael Drewniak:
"Where was the senior senator from New York with funding alternatives to a project that was predicted to run billions over projections – all of which were to be borne by New Jersey and its taxpayers? This was a 'bi-state' project for which Senator Schumer's state and the federal government were set to pay zero, zilch, nothing for the cost overruns. We can live with the criticism while protecting taxpayers from this boondoggle, which was simply a bad deal for New Jersey."
Drewniak went further in questioning Senator's Schumer's timing and motivation in slamming Governor Christie's decision on ARC, which was made in October.

"I'll also give Senator Schumer the benefit of the doubt and assume he didn't brush up on the topic before he spoke. Unless, of course, his remarks are merely political, which is always a possibility," Drewniak said.
And WABC grabbed the governor himself:
"I'll say what I said about other senators. Their job is easy. They get to sit in front of microphones and bloviate. I've got to balance budgets…If Senator Schumer would like to tell me where he was going to get the additional $5 billion? If he's got it – since he's such an important guy in the U.S. Senate maybe he's got it himself. If he wants to offer me $5 billion, then maybe we can have a conversation. Until that time, he should mind his manners on the other side of the Hudson River."
[FYI, in response, Schumer spokesman Mike Morey sent along the following: "The people who are out of work in NY and NJ are not interested in insults, they are interested in jobs. Thousands of people could be put to work today on a project that will create the infrastructure we need to create tens of thousands of jobs in the near future and ease travel for millions of commuters. You don't throw the baby out with the bathwater, and in this case thousands of jobs. Rather than come to the table and work with federal officials to deal with overruns, and preserve an asset everyone agrees is needed in the region, the Governor's decision flushed $6 billion in federal and Port Authority money down the tubes."]
In the scrum, Schumer said he chose to speak up now because Christie has earmarked the funds devoted to the ARC tunnel to pay for the state's bridge and road repairs.
"We have second issue now," he said. "The second issue is the cannibalization of the Port Authority. They have used small amounts before every so often, but this is a major policy change. To take a huge chunk of money and use it for maintenance of existing roadways, if that starts happening we will have no agency that can think large and think grand. Everyone knows the congestion at LaGuardia, Kennedy and Newark. The only real hope for that congestion, unless the region shrinks and we have fewer jobs, is Stewart. The only real hope for Stewart is the ARC because then you can have a direct rail connection between Stewart Airport and Manhattan."
Schumer said that he and New Jersey Senator Frank Lautenberg had tried to convince Christie of the err of his ways, but "to no avail."
And he dismissed suggestions that he was starting a border war with a popular governor to the west.
"It's not a border war," he said. "This applies to both New York and New Jersey. The ARC is good for both states and has the strong advocacy of both New Jersey senators. So I don't think it's a border war at all. I think it's a conceptual war. Do we throw out our seed corn? People will scratch their heads and wonder why did the New York-New Jersey region turn down one of the greatest, the largest federal public works projects that would have employed thousands and would have helped our region grow. And I am trying to light a clarion call for this."