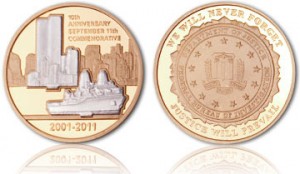 Senator Chuck Schumer and Congressman Jerrold Nadler gathered near Ground Zero this morning to call on a company to cease making bogus 9/11 coins that are taking money away from the National September 11th Memorial and Museum.
"By deceiving consumers into buying these worthless '9/11 commemorative coins,' this company is preying on the memories of that tragic day, generating millions in profits, and diverting potential funds to finance the 9/11 Memorial at Ground Zero," Schumer said. "We are calling on the FTC to crackdown on this unscrupulous company and send a loud message that profiteering off of a national tragedy will not be tolerated."
The company, National Collector's Mint, has an ad out that hawks "the officially authorized tenth anniversary September 11th commemorative" and says it is made from steel from Ground Zero.
The ad further promises that the coin "is minted under an exclusive license authorizing the striking of the official Department of Justice F.B.I insignia on the commemorative's reverse with our promise, 'Justice Will Prevail.'"
Naturally, it costs $49.99, but can be had for a limited time offer for $29.99
"With the tenth anniversary of 9/11 approaching, we should unfortunately expect more scams, as criminals and snake oil salesmen seek to profit from the deep emotional connection that millions of Americans have to that terrible tragedy," Nadler said. "We must act now — and act with force — to make it crystal clear that we will not tolerate 9/11 scams, and will prosecute swindlers to the fullest extent of the law."
Schumer and Nadler authored legislation that passed last summer that created an official 9/11 medal, proceeds of which go to the museum not being built downtown. The coin has not yet been produced. They are calling on the Federal Trade Commission to investigate National Collector's Mint.
This is not the first time that the company or its owner, Avram C. Freedberg, have found themselves in hot water. In this 2004 profile, Dan Barry notes that the company began selling cashed in early on on the desire for Ground Zero schlock, selling commemorative coins made from World Trade Center gold and silver without offering any proof about where the precious metals came from.
Oh, and the article also notes that before getting into the commemorative coin biz, Freedberg operative a porn outfit known as "Dirty Dick's Dynamite Discount Den" and had to pay $600,000 in fines to make federal obscenity charges go away.