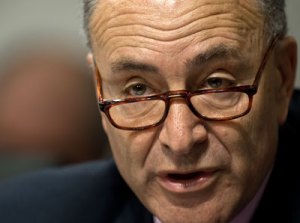 Now that the repeal of the health care reform bill has passed the House of Representatives and moved on to the Senate, it appears as if Chuck Schumer has replaced Anthony Weiner (on the local scene, at least) as the controversial bill's chief defender.
On Sunday, Schumer appeared on Face the Nation, and said that if Republicans offer amendments on the floor to repeal the bill, then Democrats will bring up votes on the popular provisions of the bill that have broad bi-partisan support.
"In the end their repeal bill is going to be so full of holes it will look like Swiss cheese," Schumer said.
Also yesterday, Schumer teamed up with Senator Robert Menendez of New Jersey to write a letter to House Majority Leader Eric Cantor to "express concern about the significant harms to Medicare beneficiaries that will result from repealing the Affordable Care Act (ACA)."
The letter is directly aimed at middle-class seniors who rely on government sponsored health care:
We are particularly concerned that repeal would reverse the course of making prescription drugs more affordable for seniors. The legislation approved by the House could require seniors to repay the government. As a first step to reducing the cost of prescription drugs, the ACA provided a $250 rebate check to seniors who fell into the "donut hole" – or gap in prescription drug coverage – in 2010. Repeal could force 3 million seniors to repay the government the $250 that they received last year…

We will not support stripping away these protections and benefits from America's seniors. We have read your comments that any unintended consequences of the House-passed repeal measure would be addressed at a later date. We find these assurances insufficient.
Full video and letter below:
January 23, 2011

Majority Leader Eric Cantor
Office of the House Majority Leader H-329, U.S. Capitol
Washington, DC 20515

Dear Leader Cantor,

As members of the Senate Finance Committee, which has jurisdiction over the Medicare program, we write today to express concern about the significant harms to Medicare beneficiaries that will result from repealing the Affordable Care Act (ACA).

Since it was enacted in 1965, the Medicare program has provided security and healthcare to America's seniors. The ACA continues that commitment by protecting the guaranteed benefits of all Medicare beneficiaries, modernizing the program, adding new free benefits, fighting waste, fraud, and abuse, and increasing access to higher quality care. Repeal of this modernization means pushing Medicare back in time and robbing seniors of valuable advances in medicine.

We are particularly concerned that repeal would reverse the course of making prescription drugs more affordable for seniors. The legislation approved by the House could require seniors to repay the government. As a first step to reducing the cost of prescription drugs, the ACA provided a $250 rebate check to seniors who fell into the "donut hole" – or gap in prescription drug coverage – in 2010. Repeal could force 3 million seniors to repay the government the $250 that they received last year.

Richard Foster, the Chief Actuary for the Centers for Medicare and Medicaid Services (CMS), has said that "in theory," seniors would have to return the checks if repeal becomes law. As you know, the burden of returning these funds will be significant on these millions of American seniors. In most circumstances, the individuals have already spent the funds, making the government's attempt to claw back these payments both impractical and unfair.

Repeal of the ACA will also re-open the Medicare "donut hole" – immediately removing the 50 percent discount on prescription drugs that millions of seniors receive today. Seniors would once again be forced to pay out of pocket for important preventative services like mammograms, annual physicals, cervical cancer and colorectal cancer screenings, cholesterol tests, and flu shots. Repeal will also revoke the 12 additional years of solvency for the Medicare Trust Fund, harming America's seniors and taxpayers.

We will not support stripping away these protections and benefits from America's seniors. We have read your comments that any unintended consequences of the House-passed repeal measure would be addressed at a later date. We find these assurances insufficient.

We urge you to commit to undo this problem now, if it is determined that repayment is necessary.

Sincerely,

Senator Charles E. Schumer Senator Robert Menendez