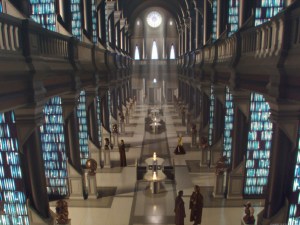 DocumentCloud is a searchable online database of primary source documents uploaded by journalists at The New York Times, ProPublica, L.A. Times, New Yorker, MSNBC and other pre-screend outlets, and it just opened up to the public today:
With close to 200 newsrooms contributing documents and thousands of documents in our catalog, we decided it was time to open DocumentCloud to public searches…

Try a search for "deepwater horizon" organization: transocean, and see documents that both reference the rig by name as well as the drilling contractor, Transocean.
There are six results for "Michael Bloomberg;" 22 results for "Madoff," no results for "CityTime," 15 results for "bribe New York," three results for "octomom" and 24 results for "pizza."
Media outlets can upload documents to publish or share internally. DocumentCloud also lets journalists annotate their documents, plot dates on a timeline and highlight names of people and places.
The project was founded by some of New York's journalism heavyweights: Aron Pilhofer, who oversees news application development at The New York Times; Eric Umansky, a senior editor at ProPublica; and Scott Klein, editor of news applications at ProPublica. It's funded by a grant from the Knight Foundation.
ajeffries [at] observer.com | @adrjeffries