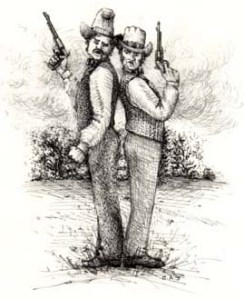 The Senate Democrats and the four senators who bolted their conference and united as the "Independent Democrat Conference" had dueling press conferences today in Albany to claim the mantle of reform.
The Independent Democrats laid out a plan to streamline state government by cracking down on overtime abuses, developing new accountability standards for outside contractors, reviewing the use of state assets, and eliminating duplicative administrative functions. Their measures, the four say, would save the state $312 million. They sent the report to Governor Andrew Cuomo's Spending and Government Efficiency Commission.
The regular Senate Democrats meanwhile reiterated their call for the Senate G.O.P. to fulfill the promises for reform that they made over the course of the campaign, especially those members who signed on to former Mayor Ed Koch's New York Uprising pledge. Their reforms would create an independent redistricting commission so legislators can no longer draw their own districts, strengthen ethics and disclosure laws and create an independent oversight commission to improve the standards of conduct and accountability for all elected officials and stop the practice of fiscal manipulation that encourages the state to spend more than it has during the budget process.
The dueling calls for reform represent good examples of each of the factions cozying up to different parts of the Cuomo agenda and playing the cards they are dealt. The "Indy Dems" need to prove their "Third Way" bona fides by coming up with good government ideas that are neither right nor left. And if the Senate were to institute Koch's reforms pledge, the Senate would be run less by the tyranny of the majority, and the "regular" Dems would find their power greatly enhanced.
Regardless, the Senate G.O.P. seems unimpressed with their plea. Says Senate Majority spokesman Scott Reif, "The Senate Democrats have had two years to pass redistricting reform, yet they failed to act. Of course, they also had two years to cut spending, achieve property tax relief and help the private sector create jobs. After two years of the Democrats ignoring the priorities of middle-class New Yorkers, we have a lot of work to do. While there are competing proposals on nonpartisan redistricting, we'll certainly be taking a look at them."