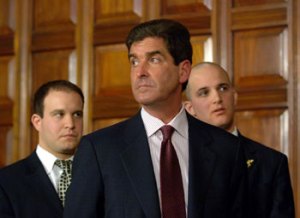 Four Democratic state senators announced today–the first day of the 2011 legislative session–that they are bolting the Democratic conference and will form their own "Independent Democratic Caucus."
"We are Democrats, but we can no longer in good conscience support the present Democratic leadership," said Senator Jeff Klein, who is leading the new group. He was joined by Diane Savino of Staten Island, upstater David Valesky, and newcomer David Carlucci from the Hudson Valley.
The move is another blow to Democratic Senate leader John Sampson, who in addition to presiding over an election which saw the Democrats lose the majority, has been dogged by how he handled the Aqueduct racing deal and allegations that he misspent caucus and campaign funds. Sampson and Klein have clashed repeatedly, and last week Klein was sacked from his job as the leader of the Democratic Senate Campaign Committee.
Still, the announcement that the Democrats now have 26 seats instead of 30 makes their task of regaining the state Senate that much harder. Klein, who a few months ago was tasked with electing Democrats, seemed unconcerned.
"I think the most important thing we need to do now is put the election behind us," he said. "The voters have spoken. The Republicans are now in the majority. And instead of saying we are going to take back the majority let's show why the Democrats should take back the majority."