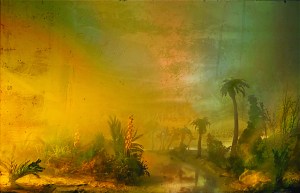 On the snow-covered Bowery, you can still buy stainless-steel restaurant fixtures, visit the Salvation Army mission or encounter a sprinkling of drunks, but in the shadow of the New Museum, a handful of galleries have sprung up. In Charles Bank Gallery's whiter than white box, seven New York artists have been wrestling with themes of garbage and simulation, to the addictively melancholy sound of "A Whiter Shade of Pale" drifting up from a video piece in the basement.
For a series called "Bright White Underground," Jonah Freeman and Justin Lowe staged elaborate reenactments of '60s happenings, which appear here in documentary black-and-white photos and digitally printed covers applied to found books. Where once we experimented with psychotropic drugs to expand our consciousness, subvert authority or have a good time, now, perhaps in an effort to rebuild structures that our parents had the luxury of rebelling against, we can only replicate the experiments' form. Kim Keever constructs, in large aquariums, imagined but exquisitely realized worlds of trees, mountains and dense, beautiful clouds, and then, like a postindustrial Audobon, photographs them in oily color. Sean Dack corrupts digital code to produce lovely, pastel-striped images: a woman's pixelated face screened by a horizontal lattice of pale purple and blue (Glitch Girl); a plane, tilted down, ghostly, gliding across a broad green stripe in a yellow sky (KLM); lightning striking twice, in black and bloody maroon (Lightning Dyptych). But if the pictures are beautiful, the thinking seems disingenuous: Presumably the artist controls the corruption, or at least he selects the final images, so in what sense are they really corrupted? Or are they portraits of the real substance of the world now that the world is an image?
Adina Popescu's The End, Part I, the video piece filling the gallery with "A Whiter Shade of Pale," is a four-minute loop of movie explosions. These days every other movie trailer seems to focus on the fiery destruction of Manhattan, but Ms. Popescu's movie clips date, like "Bright White Underground," to the days before CGI. The video plays twice, on two TVs resting sideways, bottom to bottom, on the floor, so that every explosion, as it explodes, also explodes away from its own reflection. Ms. Popescu slows down the footage, and despite the video's brevity, we have ample time to luxuriate in the exploded floating garbage: gaudy clothes, ripped books, Wonder Bread, a plucked chicken, a box of Special K. Ms. Popescu has made something beautiful, but it's not the garbage-it's the destruction of garbage, desperately longed for and always just out of reach.
The Icelandic artist Shoplifter also almost succeeds in making garbage beautiful, by making something beautiful out of material that's almost garbage. Using "synthetic hair, wood, mannequin form, socks" and "glass eye," she's built a kind of charmingly misshapen Muppet dragon, called Half Beast, Half Rainbow, in gleefully artificial rainbow colors. The glass eyes are stuck here and there, surrounded by circles of braid; the mannequin's feet, in red socks, stick up like antlers. Implicit are any number of comments about the relationship of mass production to notions of beauty, the uselessness of art and the position of femininity in a consumer economy, but the truth-and what is maybe the crucial comment-is that I enjoyed looking at it so much I didn't want to think about what it meant.
Confronting the current position of femininity more head-on are the five artists of "Basic Instinct" at Black & White Gallery in Williamsburg. Alicia Ross' Motherboard_7 (Sacred_Profane), a naked woman with arms raised and legs spread, cross-stitched on cotton in red and gold, rebukes Internet triumphalism and the commodification of female beauty at the same time. Vadis Turner has been building herself a dowry, to be sold off piece by piece, by covering stand-ins for her own bones and internal organs with pounds of thrift-store jewelry. You can buy the artist's stomach, sitting detached like a proud chicken, covered in metal baubles, or her ovaries, like two hard-boiled Fabergé eggs, in a wine glass. Twenty-eight "autobiographs" of downtown performance artist Colette remember her influential Versailles fantasia. And Jessica Lagunas, in a powerfully disturbing video triptych (The Better to See You With, The Better to Kiss You and The Better to Caress You With), uncovers the gluttonous filth underlying beauty or conventions of beauty with a simple reductio ad absurdum: She applies black mascara, red lipstick and red nail polish, in tight close-up, until the containers are used up. The glistening red mouth, as it becomes more abstract, turns obscene; eyelashes turn from pretty to putrescent; and fingertips go from ornamented to embalmed.
editorial@observer.com