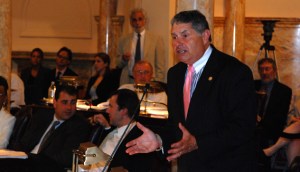 In the wake of the slaying of a police officer in his hometown this month, Sen. Robert Singer (R-Ocean) introduced legislation Tuesday to reinstate the death penalty in New Jersey in specific cases.
Singer, referencing the execution-style murder of Lakewood police officer Christopher Matlosz on Jan. 14, wants capital punishment reinstated for those who murder a child, kill a police officer in the line of duty or commit a terrorist attack that results in fatalities.
New Jersey abolished the death penalty in December 2007, the first state to do so after the Supreme Court ruled in 1976 that it could be used again. New Jersey last used capital punishment in 1963.
Singer said the problem with the previous death penalty law in New Jersey was that it was simply never used. He said they are researching how to streamline the lengthy appeals process that delays its use.
He said the bill has approximately 9 co-sponsors, including Sens. Christopher Connors (R-9) of Forked River and Anthony Bucco (R-25) of Denville.
"I do not support the death penalty out of a need for revenge or due to malice in my heart,'' Singer said. "Neither do the many individuals I have met who have suffered from heinous crimes," Singer stated.
Singer said his own family has been touched by crime. He said his wife's grandfather was murdered years ago.
"I am well aware that the death penalty will not bring back a slain police officer, a murdered child or a victim of terrorism," Singer continued."
"There are certain heinous crimes,'' he said, "that reach the level of having to use the death penalty.''