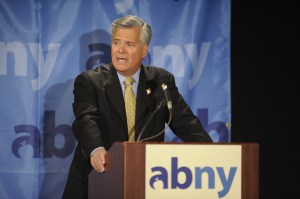 Senate Majority Leader Dean Skelos arrived at the Association for a Better New York breakfast this morning–late, as it were, because he said the traffic getting in to the city from his Long Island home was (as anyone who has taken the drive well knows) murder.
"Two hours to get in from Rockville Centre," he said after showing up at Sheraton 30 minutes behind schedule. "Don't quote me on this, but maybe we should look at congestion pricing. I'm kidding, I'm kidding."
As the DN's Adam Lisberg reports, the Bloomberg administration is taking another look at congestion pricing–now dubbed "traffic pricing"–in an effort to restore some of the MTA's budget cuts.
Skelos has been cold to the idea, calling it "another tax."
Afterwards, in a scrum with reporters, including our Reid Pillifant, he was asked about the effort to charge drivers to enter Manhattan's central business district.
"I have indicated that I am not supportive of that. Taxes are taxes and people can not afford any more taxes," Skelos said. "I don't think there is much support in the state legislature for it at all."
Pressed if that mean that congestion pricing was dead-on-arrival, Skelos said that as far as he was concerned, no one, even congestion pricing champion Mike Bloomberg, had pushed the measure.
"I have not heard anybody, including the mayor, really step up and talk about a congestion pricing plan once again," he said.