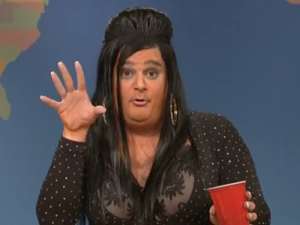 MTV parent Viacom's top two executives more than doubled their compensation from 2009, reports The Los Angeles Times.
Chief Philippe Dauman's salary, stock and benefits totaled $84.5 million in the first nine months of 2010, compared to $34 million in 2009. The second-in-command made $64.7, up from $27 million. Viacom's common shares outperformed the market, too, increasing 22% in value.
The Times attributes it to the massive ratings of Jersey Shore and they continue to climb in 2011.
Last week's episode, which dealt with Snooki's arrest, broke MTV's records for the second week in the row, reports MediaLife.
The fourth episode of the third season on Thursday, in which Snooki dealt with the fallout of being arrested for public intoxication, averaged 8.9 million total viewers, according to Nielsen, an all-time record for any series on MTV, breaking the record "Shore" set a week earlier by 300,000.
We like to think this worked out well for everyone, including us, because we got this gif, by way Gif Party.
kstoeffel@observer.com :: @kstoeffel