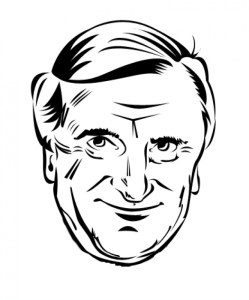 Michael Ovitz sent me a beautiful pair of shoes for Christmas. They're Michael Jordan basketball shoes, but the best part is he left the price tag on–$29.99! The only thing he got right was the size: 12.
I think he gave them to me because I always make fun of his shoes. They aren't Michael Jordan; I think his are Prada–and I think he just wanted to send me a message that said, "You don't fuck with people who wear Prada shoes!"
And did you see the spread in W magazine about Michael Ovitz's villa in Beverly Hills? It's not a house! It's a villa! Incredible!
Other than that, the week after Christmas was quiet. Half of our customers were in bathing suits somewhere warm, and the other half didn't want to leave their apartments in the snow. On Monday, Dec. 27, we had a first for the restaurant–we had to close because of the snowstorm.
In 52 years, we've never closed for weather, but no deliveries could get here and no one could get to work, so what could we do? It was a disaster. We had to have a few staff members who live close by come in and call customers to cancel their reservations, but a few still showed up at lunchtime. We basically closed The Grill until Friday evening.
Then this week things got hopping again, even though many people are still out of town. Jerry Speyer, he came for lunch on Monday with property scion Bill Mack. Hedge funder and Birthright founder Michael Steinhardt was also in with investor Oscar Schafer. They were definitely plotting something at a corner table–they were having too much fun!
But overall 2010 was a good year. After all, President Obama came for dinner at the end of the summer. I have to say, he comes close to Mr. Clinton's charisma. When you meet him, you really remember him–and not because he's the president but because he's so charismatic. Richard Holbrooke was here two days before he died. That man was full of life; what an incredible diplomat.
Another highlight–if you can call it that–was Bethenny Frankel getting married here and then pissing in a wine bucket because she couldn't lift her dress. Can you imagine! Thank God I only saw it afterward on TV. I don't know what I would have done if I saw her pissing in my wine bucket in person.
editorial@observer.com