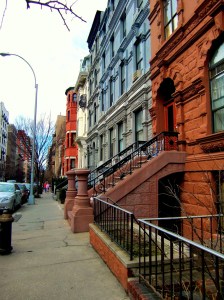 Who cares about foreclosure doom and gloom when you're living in a grand townhouse uptown? The Journal has a report on how the townhouse market in Manhattan has made a near total recovery from the real estate bubble's bursting three years ago. Here's the cheat sheet:
So far, there were 54 townhouses (one- to four-family homes) sold in 2010, compared to a high of 57 in 2007, though more could still hit public records in the coming weeks or months, possibly setting a new record.
Prices for townhouses fell farther and faster than for condos or coops in the past few years, but they have also rebounded faster.
The median sales price was $7.63 million, compared to $7.9 million in 2007.
The Upper East Side still had the most sales, but the Upper West Side is catching up in terms of price.
Meanwhile, the record for most expensive West Side townhouse, set in 2007 with a $15.75 million purchase on Riverside Drive, was broken twice this year, with a $19.4 million sale
Looking for a bargain? Townhouses in Greenwich Village and Harlem have not seen the rebound that their uptown neighbors have.
There were only two trophy sales (those more than $20 million) in 2010: the Duke Semens Mansion and 20 North Moore Street. (Both were also in the Top 10 for sales last year). This is compared to six in 2007 and eight in 2008.
Now if only they could figure out what to do about those nasty narrow townhouses.