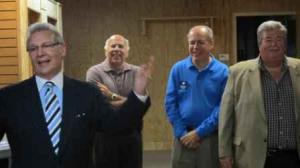 Former Lyndhurst Mayor Lou Stellato will finish at the fore of a two-man pack on March 8 when the Bergen County Democratic Organization convenes to replace Michael Kasparian as party chairman, according to sources at the state, county, and municipal level.
"The message is simple: Unity brings victory," Stellato told PolitickerNJ. "What I'm trying to do is get everybody at the table."
Sources confirmed that Stellato has enough committee support to take the chairmanship, unless something unforeseeable occurs between now and then.
His main backing right now is coming from state Sens. Robert Gordon (D-Fair Lawn) and Paul Sarlo (D-Wood-Ridge).
"We really should make this decision in the county committee," Gordon said. "It's really important that the chairman not be selected by a group of legislators."
That said, "I decided when I heard about the two candidates (Stellato and former Freeholder Chairman Jim Carroll) – my preference was Lou Stellato."
"We were mayors together in the '80s," Gordon said. "He's experienced in Bergen County politics…Mostly I think we need to go in a fresh direction."
Sarlo wouldn't speak on the record, but sources close to him said he is talking with state Sen. Loretta Weinberg (D-Teaneck) and trying to bring full legislative support to Stellato's candidacy.
Weinberg said her district team is meeting with the municipal chairs on Wednesday night, so she was not willing to commit to any candidate yet.
"He's not retiring for another month," she said of Kasparian, noting that other candidates could conceivably come forward between now and then, although she knows of none who intend to do so.
Stellato was mayor in Lyndhurst for four terms from 1982 to 1998, and has served as municipal Democratic committee chairman there ever since.
Today, he was endorsed in Hackensack, Fairview, and Fort Lee by the municipal chairs, enough, insiders said, to bring home the seat in March.
Since Bergen County is all-important to statewide races, U.S. Sen. Robert Menendez (D-NJ) has been feeling out the BCDO situation over the past month or so, as Charlie Stile from The Recordreported over the weekend.
Sources said Menendez' state director, Michael Soliman, has been careful not to put pressure on Kasparian to step down while trying to get a pulse on the Bergen organization's not-so-deep bench.
Stellato hasn't spoken to Team Menendez, but conversed with U.S. Rep. Steve Rothman (D-NJ09) over the weekend. They served as mayors concurrently in the '80s, as Stellato and Gordon did.
"I'm looking forward to our county chairman issue being resolved by consensus," Rothman toldPolitickerNJ today, non-committal on any one candidate.
"As have other elected and non-elected Bergen Democrats, I have been working for the past several days in discussing the various merits of possible successors to chairman Kasparian in order to help achieve consensus around the best available person."
Asked about Stellato particularly, he said, "I've known Lou for nearly 30 years and consider him a friend and a strong Democrat."
Stellato said his goal is to return the Democrats to the party of inclusion, a trait many Bergen Dems have complained was lost in the last decade.
"Some people have seen it as a fragmented situation in Bergen," he said. "I've spoken to as many of the factions and as many of the towns as I can, and the message is the same. There's going to be room for everybody."
In a county with 70 municipalities, that could prove more difficult that it sounds; it would have to be a very big table for everyone to have a seat.
"You make different subcommittees and you take those people who have the very best to offer in certain segments," he said, like fundraising, rewriting the bylaws, creating election literature, and recruiting candidates.
"The young and the old and the black and the brown and the yellow, everybody, women, men – everybody has a seat at the table," Stellato said.
Kasparian isn't stepping down until March 8 to allow municipal committees to fill empty seats and reorganize, according to BCDO Executive Director Chris Lee.
Generally, the committee meets the second Tuesday in March to vote on candidates for county offices, but that vote will be delayed until a new chairperson is crowned.
The county seats up this year are fourfold: clerk, surrogate, and two freeholders; but three of the four candidates will most likely be incumbents, so only the clerks seat will need a fresh candidate.